Dulce Gonçalves, Nuno Ferreira and Teresa Mesquita of Unidade AVC Centro Hospitalar Lisboa Ocidental share their success story.



 

Our Stroke Unit (SU) has gone through a long journey since it first opened in 2008. Having overcome the inevitable challenges found in the implementation of any new project, the team was ready to continue improving its work quality, meeting the patients' needs as well as keeping up with the fast progress in acute phase treatment that has occurred in the past years. 

When we contacted the Angels Initiative, we saw it as an opportunity to enhance stroke intervention in our hospital. In addition to refreshing stroke education and the knowledge it offers, we were attracted by how the initiative establishes quantifiable aims, which became an incentive to all the team members.  

This initiative strengthened our team spirit towards a goal that puts individual patient care first. By defining the stroke patient pathway while also pre-establishing potential divergences and its corresponding actions, it helped all components in the stroke chain to know exactly what role they play in the process. 

Having already reviewed and modified various checklists and procedures implemented in the SU, we proceeded to analyze and evaluate the patient pathway by conducting a code stroke simulation. The simulation enabled us to identify several key steps that needed to be modified in order to improve door-to-needle times. 

One of the first changes included having the SU team meet the patient at the hospital admission. We understood the importance of the connections between every role player, starting from admission to the Emergency Department, CT procedure, up to admission to the SU. Thus, all the medical and nurse teams from ED, SU and radiology were involved to improve the relationship and understanding between everyone and, ultimately, decreasing the patient treatment time until; if indicated, the beginning of fibrinolytic therapy in the CT room.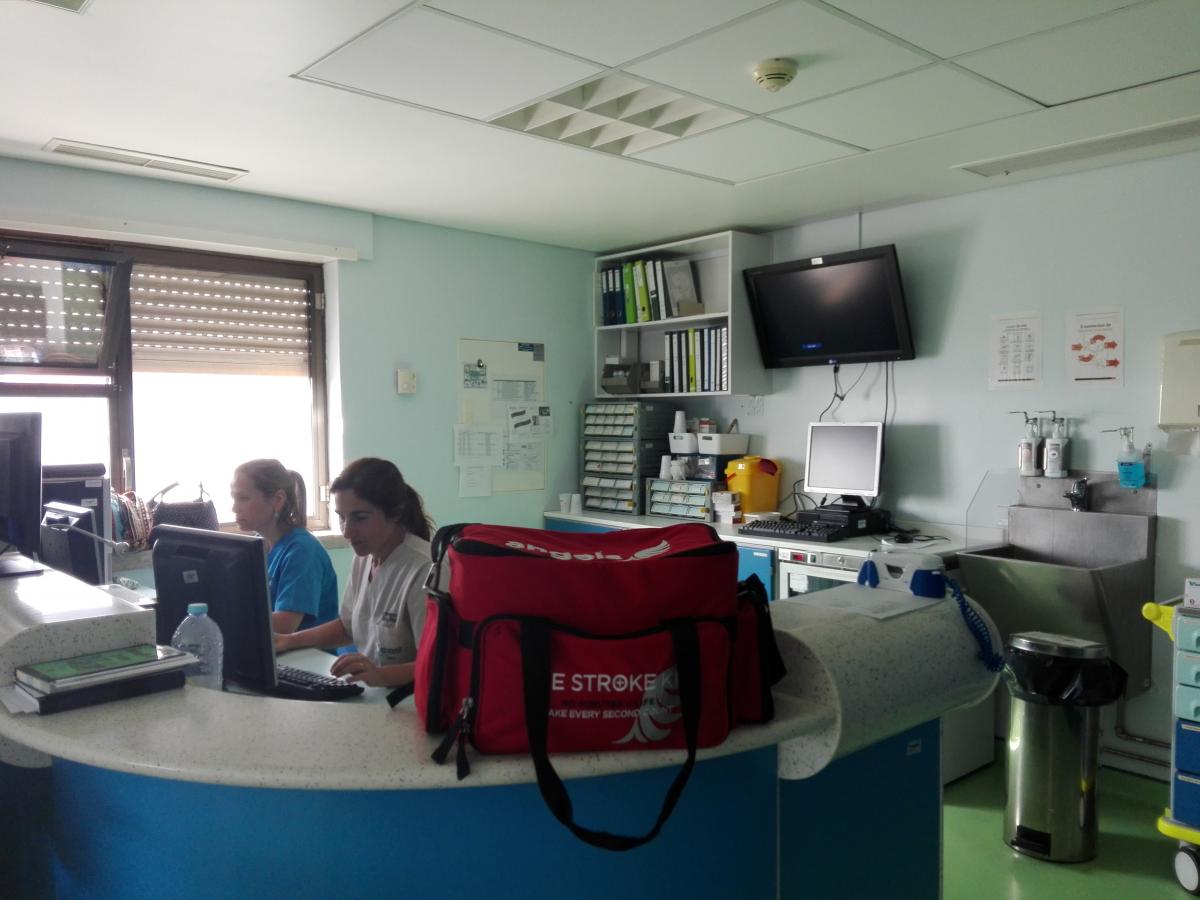 When we are all fighting for the same cause, we can achieve results that we at first considered impossible. We are very proud to say that we have managed to push our door-to-needle time down to a record of 14 minutes. The key is to always consider the patient's perspective, who is at risk of losing significant functional capacities, which would in turn rob them off their independence and dignity. 

The Angels Initiative has helped us change our mindset - to keep thinking on how to be better. Today, we feel that we need to step out of the hospitals doors and initiate interventions starting from the pre-hospital phase, namely through collaborative knowledge sharing sessions with firemen groups, with whom we work frequently. The knowledge of the general public about stroke and how to identify it is another concern, something we aim to improve by participating in health-related events in schools. And finally, we want to constantly be ready to receive and treat patients in the most efficient way, which we will achieve by constantly reviewing our code stroke procedures, no matter how 'good' we think we already are. 

Thanks to, and together with, the Angels Initiative, we feel that it is easier to make our objectives come true - to improve stroke care for the sake of our patients.