Strong partnerships and a thriving community made the fifth-birthday celebration of the Angels Initiative in Southeast Asia and Korea a warm-hearted family affair.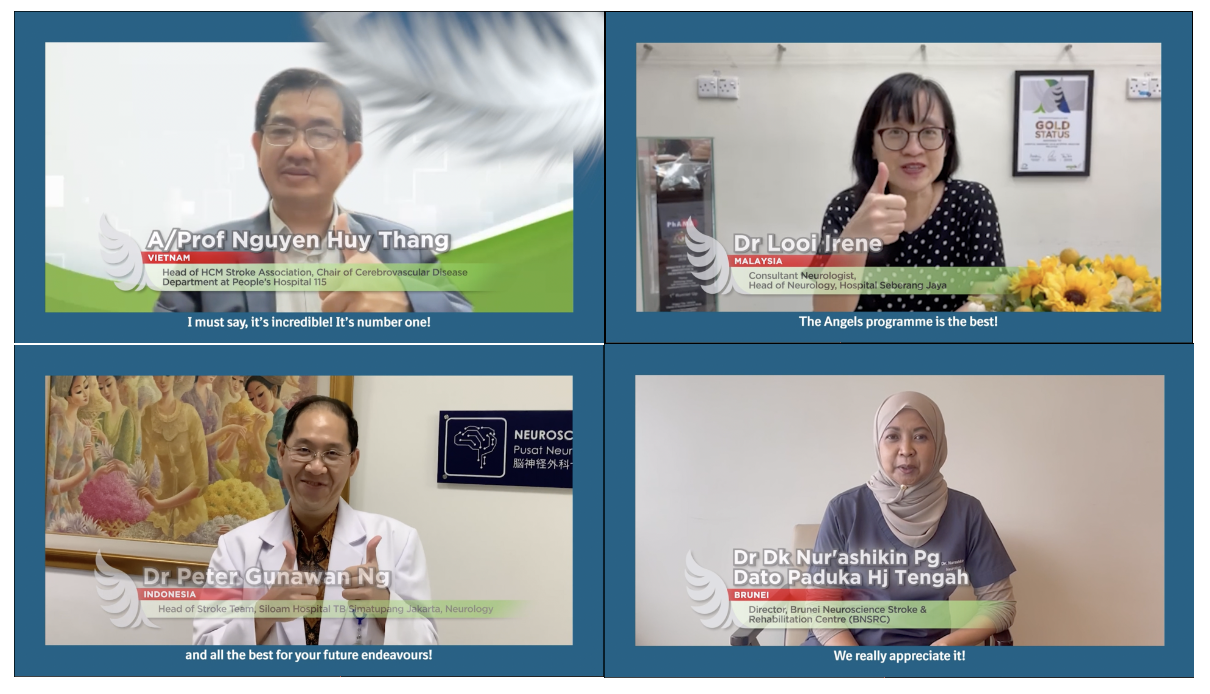 The fifth-birthday celebration of the Angels Initiative in Southeast Asia and Korea (SEASK) was a tribute to family and community, as stroke champions from across the region gave the thumbs-up to what Dr Maria Epifania Collantes from the Philippines described quite simply as a "job well done".
Dr Collantes is the driver for better stroke care at award-winning Philippines Government Hospital and a past president of her country's stroke society. She joined more than a dozen leaders in the fight against stroke who pay tribute to Angels in a video to celebrate five years of promoting stroke care excellence in the region.
"One word – incredible!" rang the endorsement from Associate Professor Nguyen Huy Thang of Vietnam whose services to stroke care includes being Head of HCM Stroke Association and Chair of the Cerebrovascular Department at People's Hospital 115, winner of 11 WSO Angels Awards. Prof Thang was among six recipients of the inaugural WSO Angels Spirit of Excellence Awards that were announced last November, and the first Vietnamese doctor to be honoured by the World Stroke Organisation. "It's number one," he said of the journey that began five years ago to help hospitals in the SEASK region to become stroke ready.
Since 2017, more than 400 hospitals in countries including Indonesia, Korea, Singapore, Vietnam, Thailand, Brunei and Malaysia have implemented stroke protocols and over 300 have implemented quality monitoring. In-hospital simulations have been conducted at more than 300 hospitals, and to date 160 hospitals in the region have met the criteria for WSO Angels Awards.
Dr Silvester Christanto, head of the stroke team at St Carolus Hospital in Jakarta, Indonesia, thanked Angels for realising his hospital's wish to have "a strong and capable stroke team", and Dr Tasanee Tantirittisak from Thailand lauded the experience-sharing opportunities provided by the Angels community. Dr Tantirittisak is president of the Neurological Society of Thailand and heads up the Neurological Department at the Neurological Institute of Thailand, a WSO Angels diamond award hospital. Her services to stroke care earned her a nomination for the WSO Angels Spirit of Excellence Award in 2021.
Fellow-nominee Dr Maria Socorro F Sarfati, whose Baguio General Hospital and Medical Centre outside Metro Manila in the Philippines is its region's leading provider of quality stroke care, hailed Angels for "inspiring and empowering stroke champions".
Forming strong partnerships has been a driver of success in SEASK countries, including an alliance with the Singapore National Stroke Association whose president Dr Shamala Thilarajah reflected proudly on her association's support for implementing the FAST Heroes programme at primary schools in Singapore.
Summing up the spirit of collaboration and community that drives stroke care improvement in the region was Prof Madya Dr Wan Nur Nafisah of Malaysia. "Congratulations Angels for five years of incredible work!" the consultant neurologist at Kuala Lumpur's Hospital Tuanka Muhriz said. "I am very grateful for being part of this amazing family."