The stroke team at Avezzano Hospital had run out of steam. To regain their momentum and reach goals they had once believed impossible, they first had to go back to basics.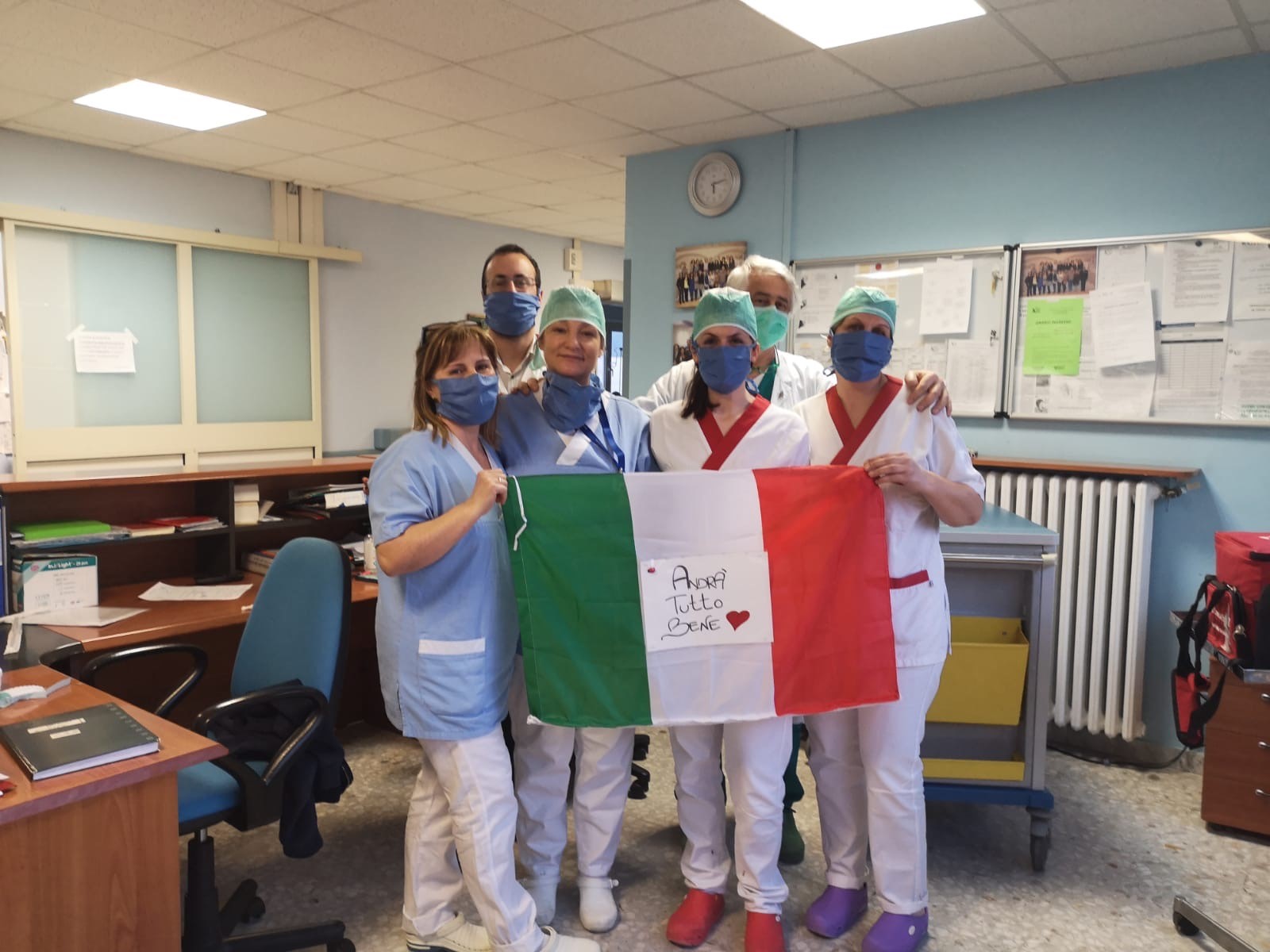 This is the comeback story of a hospital that recovered its self-belief thanks to a bright spot and a poster. It starts in 2017, when Avezzano Hospital in Italy's Abruzzo region enrolls with the Angels network with the goal to improve the quality of its stroke care.
Avezzano is a city well worth visiting if you happen to be travelling through Central Italy. It dates back to the late Middle Ages and although it was almost completely destroyed by an earthquake in 1915, it was later rebuilt, and these days the city's protector, Saint Bartholomew, once more keeps an eye on things from above the right portal of the rebuilt Cathedral of San Bartolomeo in the town square.
Nature lovers should take note that Abruzzo is considered the greenest region in Europe. Its many parks and reserves host 75% of Europe's animal species, including the rare Apennine wolf and the endangered Marsican brown bear.
ts motto, "forte e gentile", was bequeathed by the 19th-century writer Primo Levi, who was struck by the local inhabitants' strength and kindness.
Of these strong and kind citizens, over 200 000 are served by Avezzano Hospital, one of four comprehensive stroke centres in the region. It was here that Angels consultants Lorenza Spagnuolo and Elisa Salvati helped the stroke team reduce door-to-needle times by 30% and door-to-groin times by half, between 2017 and 2019.
But by February 2020, when new consultant Lorenzo Bazzani travelled south from his home in Florence to pay a call on the director of neurology Dr Berardino Orlandi and his team, performance had slipped. Data collected in March 2020 as part of the quality monitoring project MonitorISO told a story of mixed fortunes: while the recanalisation rate remained high, the median door-to-needle time at Avezzano Hospital had declined to 106 minutes. The 30-minute goal that would soon be adopted as Italy's national target seemed a million miles away.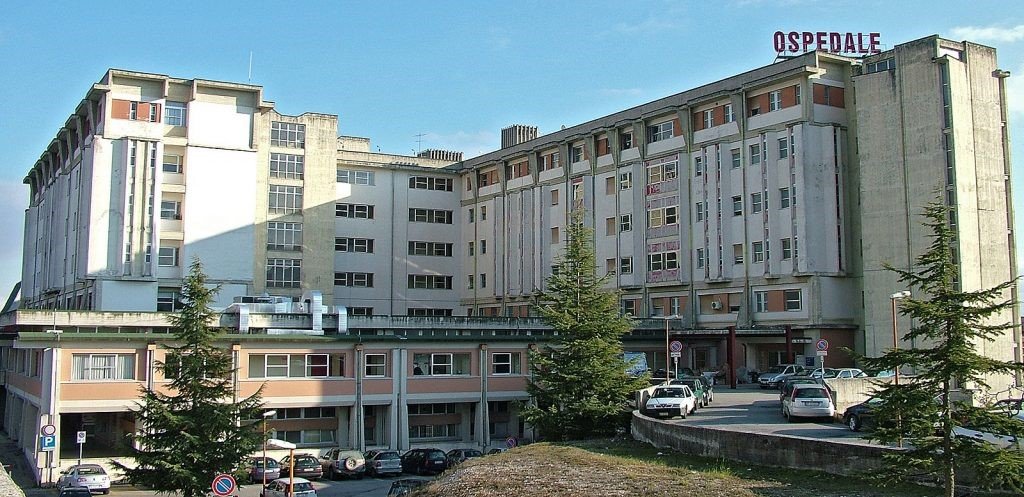 A bright spot
Thirty minutes from admission to treatment when you were in the thick of a pandemic and your hospital had been assigned a Covid centre? Dr Orlandi, for one, was not convinced. "In our hospital, considering the situation we are facing, the only way to treat a patient in 30 minutes is to completely skip many crucial steps in the stroke pathway," he told the National Steering Committee in October 2020.
"It is not possible."
The next MonitorISO period, from mid-November to mid-December, coincided with a peak in Covid infections, just like the first. At Avezzano Hospital door-to-needle times had declined to 157 minutes, but a bright spot had emerged from the data – door-to-imaging times of under under 30 minutes had been recorded in 48% of cases.
Lorenzo seized the moment. If close to half of stroke patients reached the CT scanner in less than 30 minutes, imagine what could be achieved if patients were treated right there in the CT Scan room, without first being transferred to the emergency department!
Bright spots, writes Chip Heath in the change management bestseller Switch, are an organization's own best moments, "an early glimmer that something is going right". Their value is that they make people believe that success is possible, and the stroke team at Avezzano Hospital, no matter how wearied by the fight against Covid, were starting to recover their belief.
A call to arms
Three projects now rolled out almost at once and were swiftly rewarded. Mere minutes after a meeting in which a resolution was reached to focus on treating stroke patients at CT, an emergency was called. The patient, having arrived at an auspicious moment, was treated within 25 minutes, and with that, the treat-at-CT pilot project was off to a flying start.
Next, a nurse at Avezzano Hospital drew attention to a deceptively trivial problem. When patients arrived at the hospital fully clothed, treatment was delayed by 10 minutes or more while clothing was removed from the patient's upper body to insert the cannula for intravenous therapy. The question was, how could they recruit the support of emergency medical services who were already labouring under the burden of Covid-19, to clear this hurdle?
In Italian, the answer was three words: a braccio pronto. In English it's two: "arm ready".
In another example of enterprise and imagination, a simple logo was designed to encourage stakeholders to rally around one of the founding principles of the Angels Initiative, namely that small things make a big difference. A braccio pronto meant faster access to a life-altering intervention. Soon more patients were being brought to the hospital with bare arms ready for treatment.
The third project was a pilot that took Avezzano Hospital back to basics.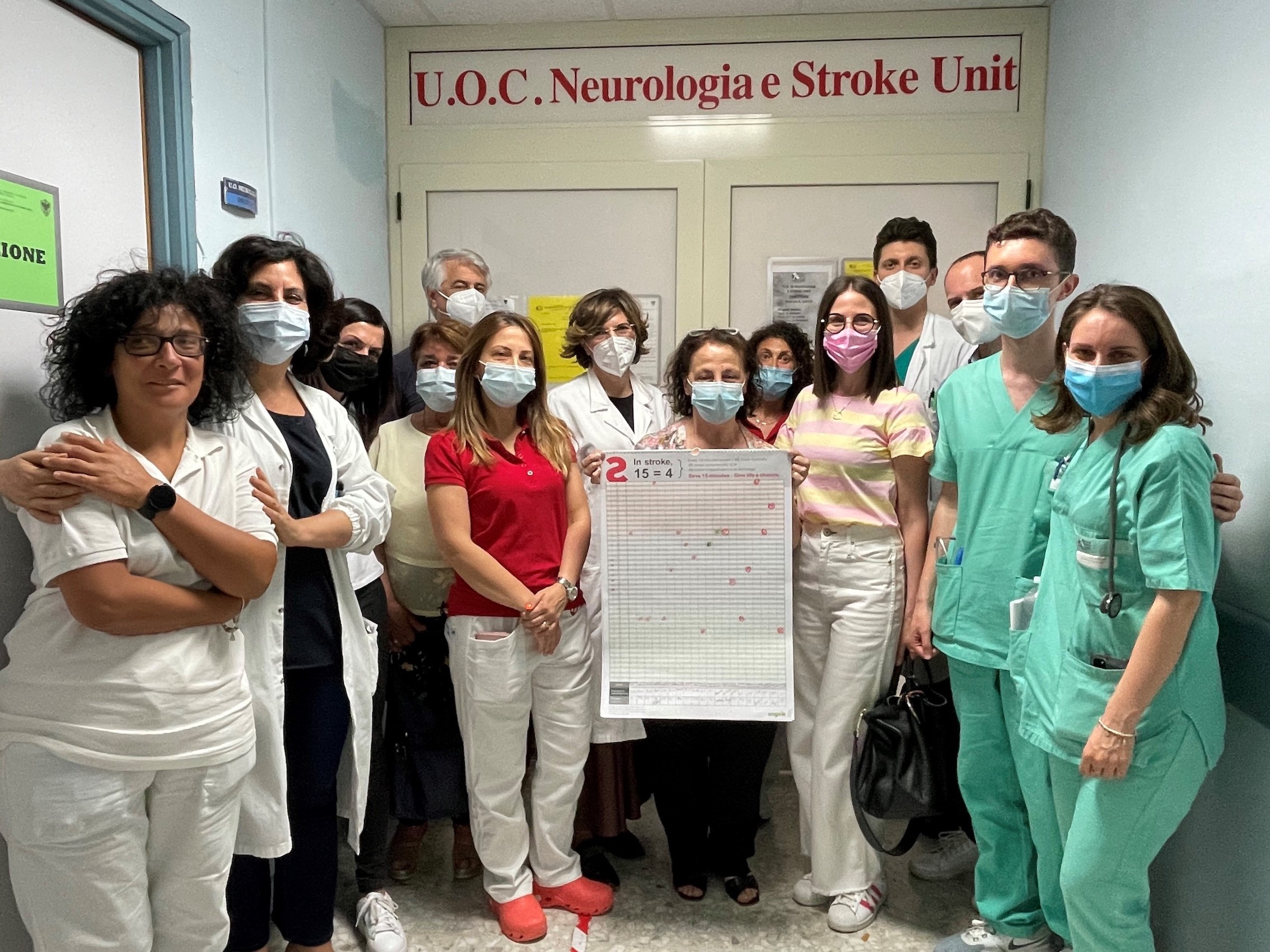 Back to basics
The Helsinki poster is one of the simplest tools in the Angels hyperacute treatment kit – an A3- sized grid with rows numbered from one to 80, and a column for each patient who enters the stroke pathway. By placing a tick in the row corresponding with each patient's door-to- treatment time, it becomes a powerful quality monitoring tool for which the only equipment required is a ballpoint pen.
From April to June 2021, the stroke team at Avezzano Hospital treated 19 patients and in each case made a mark on the poster to record the door-to-needle time and where recanalization was started. Eleven patients were treated in either the emergency department or the angio suite, on average 60 minutes after arriving at the hospital. For eight patients, the therapeutic decision was taken at
CT and treatment commenced in the same setting. For them, the median door-to-needle time was 25 minutes. The Helsinki poster had had the last word.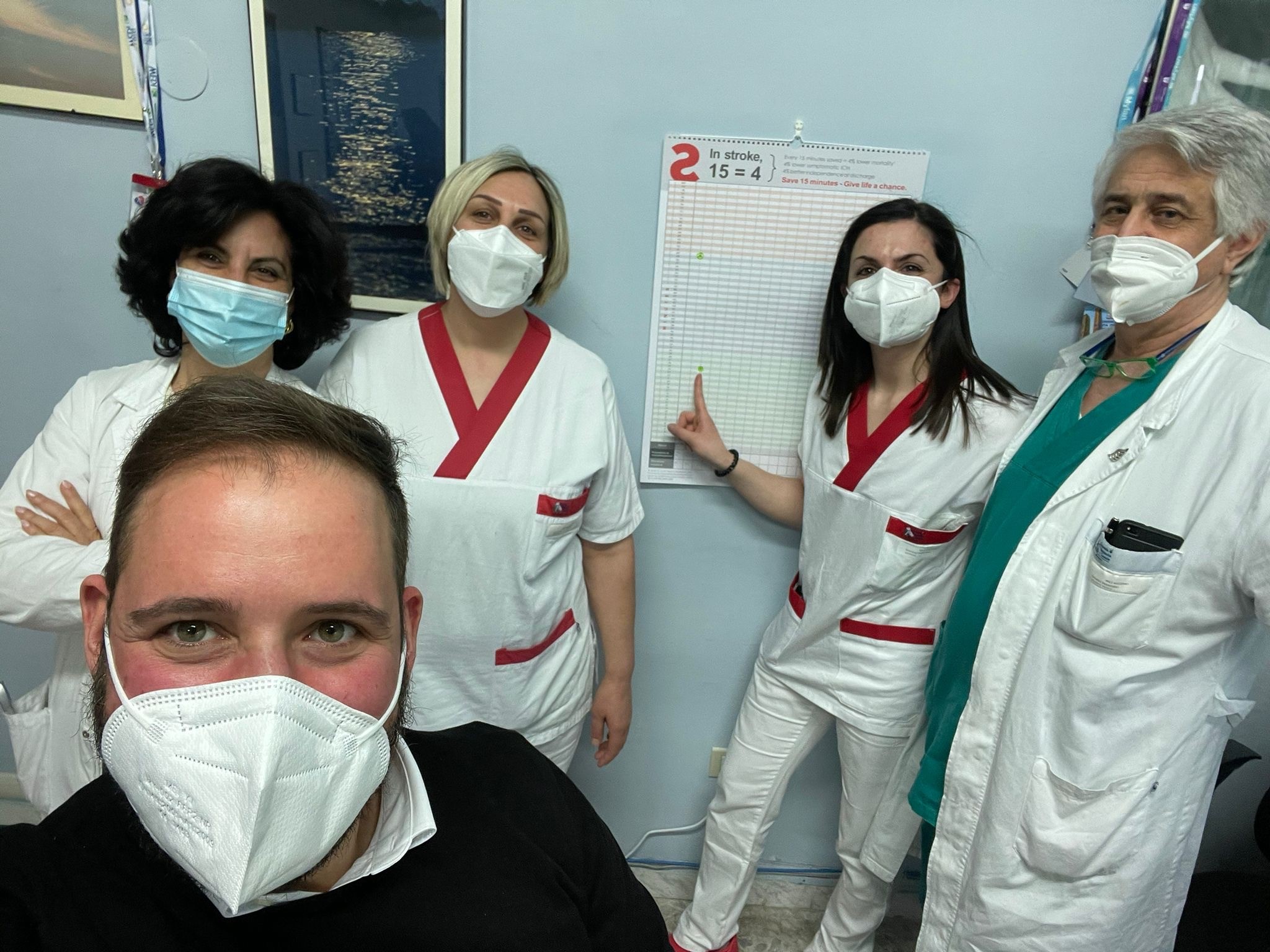 Impossible is nothing
Once a skeptic, Dr Orlandi has become not only a believer but a leader and campaigner in the charge towards 30 minutes. A key speaker at an online webinar to discuss the organization and quality of stroke care in the Abruzzo-Molise region, he urged his colleagues to join him in the fight to give life a chance.
Optimizing the stroke pathway can be challenging since it requires the involvement of different professionals. We have to make a switch in our minds because we have the power to change things now. I encourage all of you to try to implement the priority actions recommended by Angels.
It is possible to receive prenotification by EMS, to treat at CT, to act with urgency and to drastically reduce the treatment times! Together we can do more, we can do better in order to give a stroke patient's life a chance."
In May Avezzano Hospital took part in the third edition of MonitorISO. The results will be reviewed at a regional meeting in September, and new goals set. A regional action plan is being developed; there are plans to work more closely with the emergency medical services, and hospitals in the region will record their stroke treatment data on the Helsinki poster in what has become known as the Helsinki challenge.
No this is not a competition between hospitals, Lorenzo explains, except in the sense that each hospital will compete against its own previous performance.
And that is how a bright spot and a poster helped improve stroke care for the strong, kind people of the greenest region in Europe.