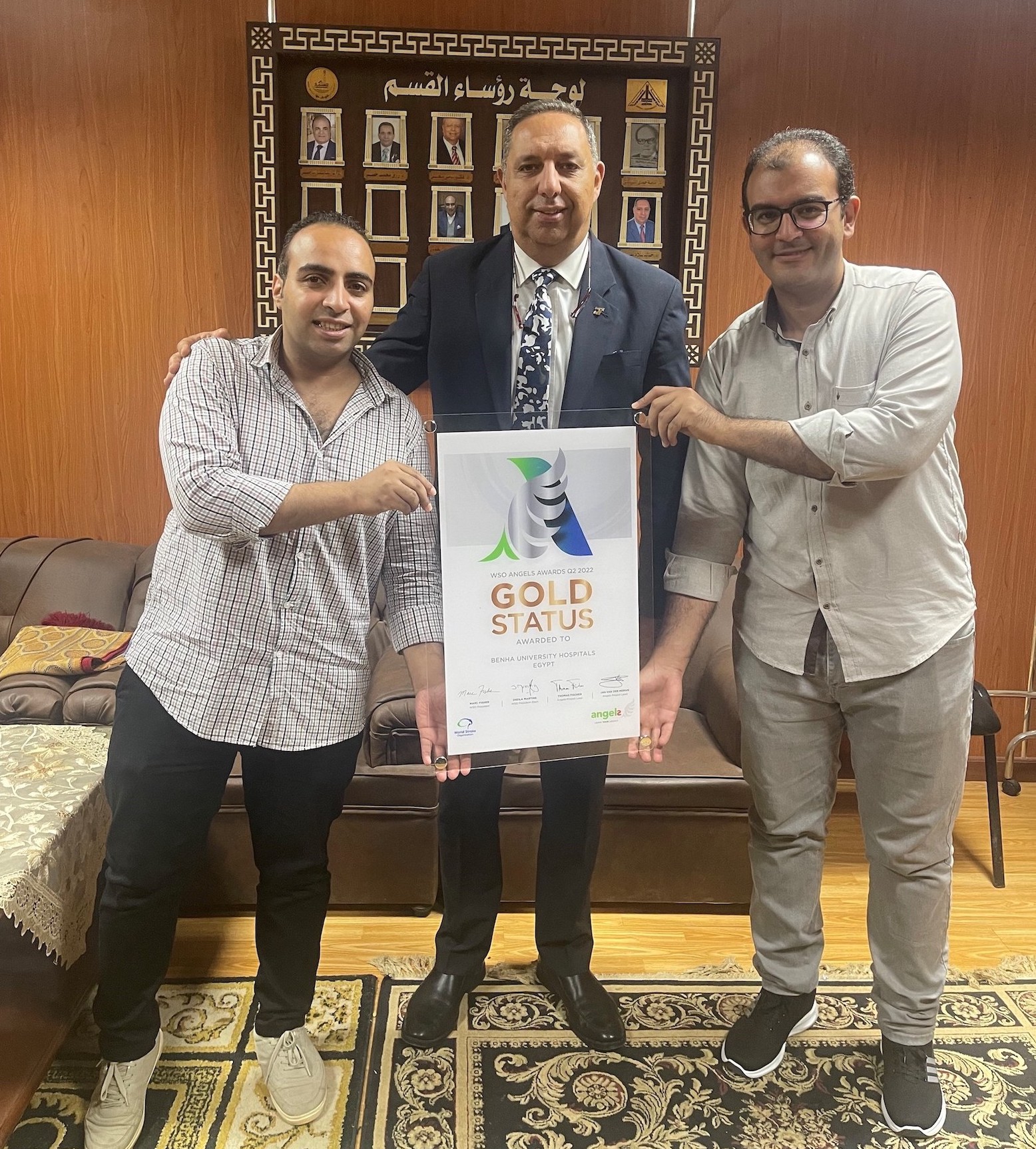 It is common wisdom that success is not linear, and that effort doesn't consistently yield an equal reward. But however encouraging this is when we find ourselves on the downslope, it is a view firmly contradicted by the experience of Benha University Hospital in Egypt's Qalyubiyya Governorate, which recently celebrated its first WSO Angels Award.
Progress at this hospital over the past 12 months has been a straight upward line that connects the establishment of a stroke centre late in 2021 with recognition by the international stroke community barely one year later. It is proof that doing the important things right makes success just about inevitable.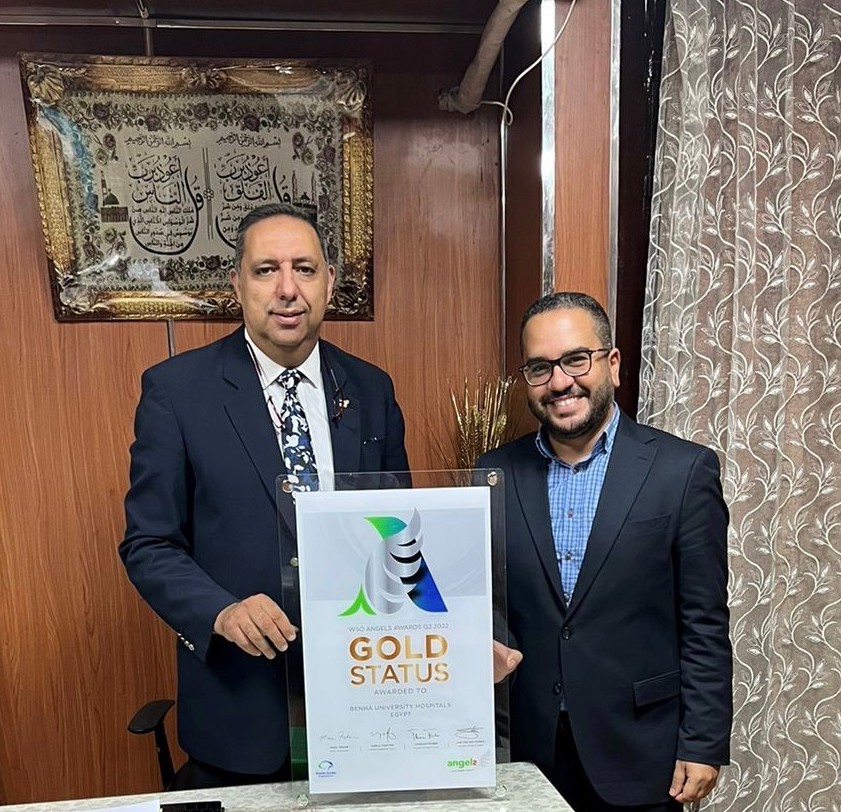 The initial step that set Benha University Hospital on course for success was an investment in infrastructure. Against the backdrop of a long-term strategic plan to improve stroke care throughout Egypt, the hospital established the first stroke unit in the governorate – a 12-bed facility where stroke patients would receive the best possible care.
The next decisive intervention was an Angels-facilitated stroke workshop in February 2022 during which the pioneers in stroke management in Egypt shared their knowledge and experience with residents and junior doctors taking their first steps along the stroke pathway. The workshop opened with an overview of stroke management by Prof Dr Khaled Sallam, head of neurology at Benha University Hospital. Then over 90 physicians and nurses from various disciplines participated in a highly interactive simulation workshop led by Professor Dr Ahmed Abdelalim who heads up the largest stroke unit in Africa and the Middle East at Cairo's Al Qasr Al Ainy Hospital.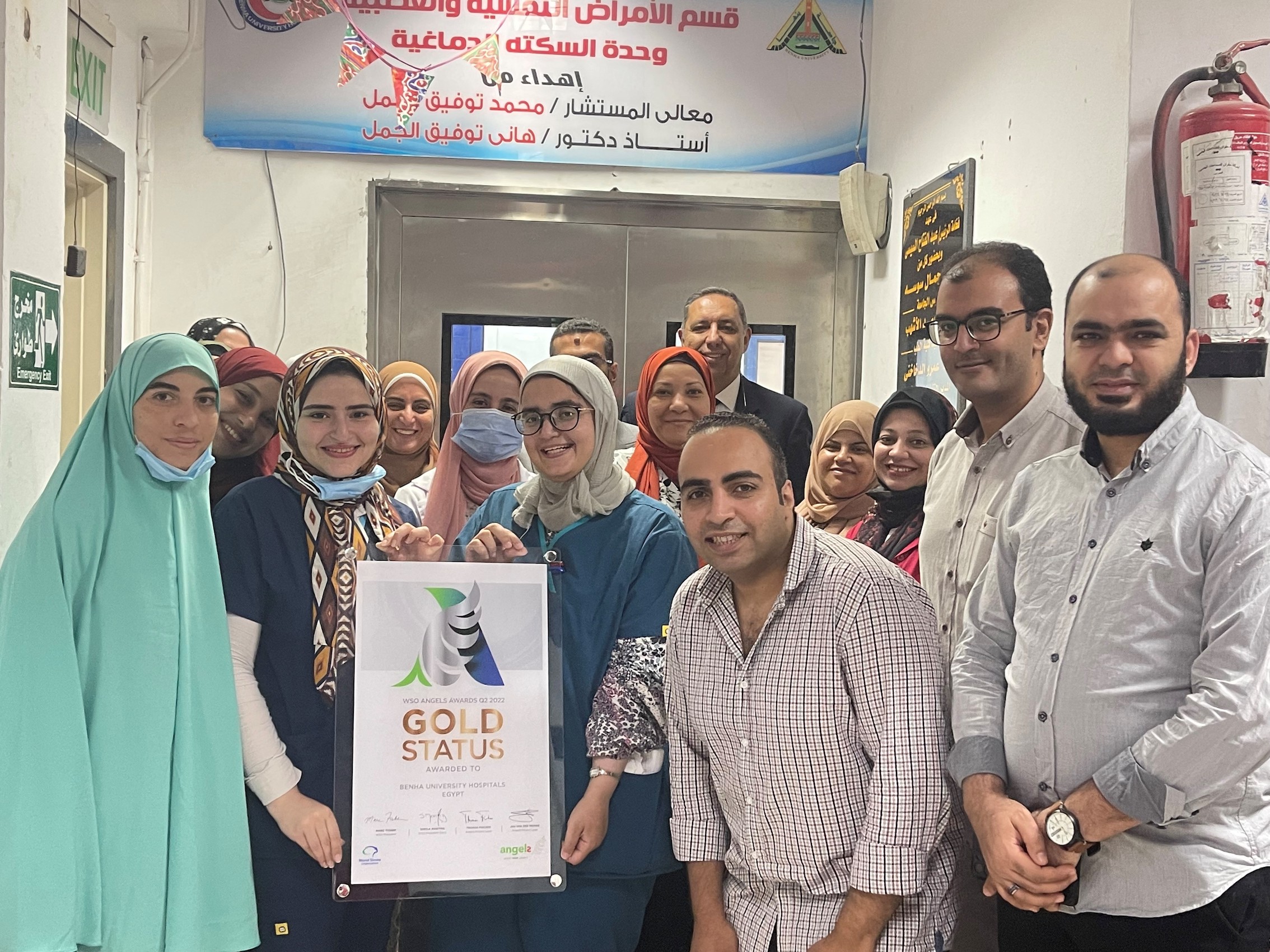 Step three was a commitment to record treatment data in the quality improvement registry, RES-Q, from March 2022. The Benha team had grown convinced of the value of tracking the new stroke unit's progress for both self-assessment and recognition. In addition, identifying the areas that required improvement would form part of the hospital's learning curve.
What ultimately straightened out that curve into an upward line was a series of interventions that included continuous education, an optimised stroke pathway and improved cooperation between the departments involved in treating acute stroke. As the thrombolysis rate rise and the door-to-needle time decline from 60 to 30 minutes, confidence grew that Benha University Hospital was destined for success. And when it was confirmed that the hospital had met the criteria for a gold award for Q2 of 2022, no-one except the stroke team was surprised. International recognition had come far sooner than they had believed possible.
''To think that in less than a year from opening our stroke centre we are awarded the gold WSO Angels Award," Dr Khaled Sallam told staff during a function to celebrate the milestone on 11 September. "This is not only a proud achievement for the department and the whole hospital, it has also enabled us to impact many patients' lives."

Benha University's Hospital's upwards trajectory now looks poised to continue, as the stroke team have already set their sights on a diamond award.
"Gold is a good start," Prof Dr Sallam said. "Now, however, we aim for diamond status – that is the quality of medical service we always aim to provide to our stroke patients.''
Given this level of enthusiasm and ambition combined with ongoing support from the Angels team in Egypt, the journey of Benha University Hospital looks set to remain an example of linear causality, its success represented by a straight line continuing ever upwards.