The network connecting the Stroke Centre at Bach Mai Hospital and Văn Yên District Medical Centre clearly demonstrates the benefits of the hub and spoke model for stroke care.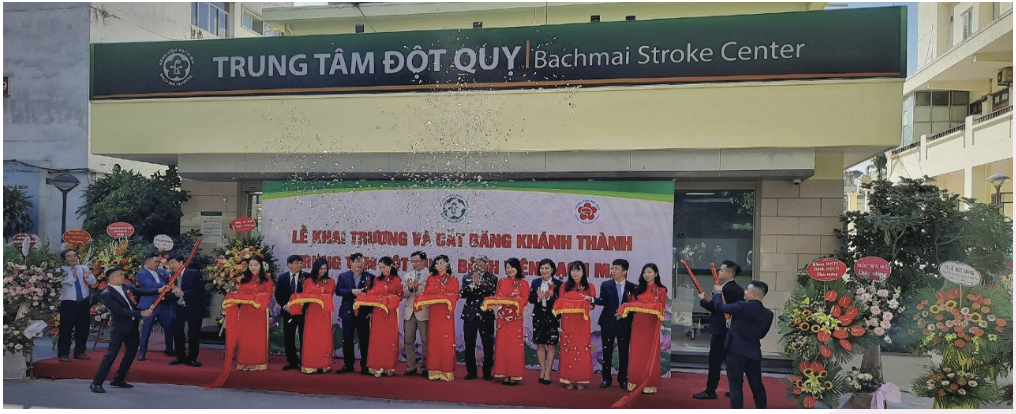 Văn Yên is a district of Yên Bái province, in the mountainous Northeast region of Vietnam. The district has a population of about 130,000 people, of which nearly 50% are ethnic minorities, and is served by Văn Yên District Medical Centre, a Class 2 hospital with 220 beds.
Knowledge about stroke is extremely limited in this region and the rugged landscape makes it difficult to travel. Because many stroke patients arrive at the hospital outside the treatment window, or seek no treatment at all, a stroke unit was established in the Pediatric Emergency Department at the Medical Centre in April 2021 – the first stroke unit at district level in Yên Bái province.
Low stroke awareness and the rough terrain that impedes travel, were just some of the initial challenges faced by staff at the fledgling unit. Aside from a 32-slice CT scanner, medical equipment for specialised diagnosis of cerebral stroke is still limited, and human resources are thin, consisting of a single fibrinolysis team of one doctor and two nurses trained in cerebral stroke.
Yet, in its first seven months of operation, the centre's stroke unit has notched up impressive achievements, performing fibrinolysis in 20 out of 91 stroke cases – a recanalisation rate of almost 22% – and achieving a world-class median door-to-needle time of 35 minutes.
With leadership provided by the Department of Health and the centre itself, together with unwavering efforts of the stroke team, these achievements are also due to support from the Stroke Centre at Bach Mai Hospital in Hanoi - one of the biggest hospitals in Vietnam and winner of five consecutive WSO Angels Diamond awards for excellence in stroke care.
Stroke in Vietnam is a leading course of death and disability, affecting almost 200,000 people every year and causing an economic burden for families and society. It is therefore very important to build a stroke network that covers all 63 provinces and to eventually make stroke care accessible to the entire population of around 96 million.
In recent years, a great deal of success has been achieved through the hub and spoke model which connects spoke hospitals to a comprehensive centre, via a telemedicine network. The cooperation between Văn Yên District Medical Centre and the Stroke Centre at Bach Mai Hospital provides a case in point.
Bach Mai Hospital is a special-class general hospital, providing emergency care and treatment for about 6,000 to 8,000 stroke patients every year. A leader in stroke care, it has regularly implemented many high-tech interventions for stroke including intravenous thrombolysis, mechanical thrombectomy, decompressive craniectomy to relieve intracranial pressure, treating subdural hematomas, surgical clipping of ruptured aneurysms in subarachnoid hemorrhage, and intensive cranial resuscitation techniques such as ventricular drainage.
A stroke centre separate from the emergency department was established at Bach Mai in November 2020, thereby improving the quality of care and treatment of stroke patients. The center also promotes training, scientific research, international cooperation and provides clinical support to other hospitals in North Vietnam. Its stroke group has a membership of more than 1,000 people, which includes the team from Văn Yên District Medical Centre.
Networking between the medical centre and Bach Mai Hospital began at the end of 2020, when Dr Vu Van Thuong and nurse Nguyen Manh Cuong were sent from Văn Yên District to Bach Mai in Hanoi, to attend the four-month course "Management and Care of Stroke Patients Using Thrombolytic Drugs". Here, they received dedicated instructions from experienced lecturers led by Associate Professor Dr Mai Duy Ton, director of the Stroke Centre at Bach Mai Hospital and a nominee of the WSO Angels Spirit of Excellence Awards.
On completion of their training, the Văn Yên team became part of a network through which they can seek advice from Bach Mai doctors for difficult cases, either through the telemedicine system or via the video messaging service, Zalo.
In one notable case on 31 December 2021, cooperation between Văn Yên and Bach Mai saved the life of a patient with severe subarachnoid hemorrhage. Previously, patients from a district hospital would be transferred to a provincial general hospital, but after a remote consultation, Bach Mai doctors recommended a direct transfer to their stroke centre for early intervention. After undergoing endovascular coiling to block blood flow into the aneurysm, the patient recovered completely. This was also the first case of direct emergency transfer from the district to the local central level.
Văn Yên District Medical Centre also receives advice from doctors at Bach Mai Hospital on community education to increase public awareness of stroke, and to ensure that more patients seek treatment during the "golden hour" for acute ischemic stroke treatment.
The case of Bach Mai and Văn Yên hospitals clearly demonstrates the benefits of the hub and spoke model for stroke treatment – and there is more to come. As Dr Mai Duy Ton says, "We look forward to supporting training for more units, so that we can develop stroke networks in Vietnam, thereby increasing the number of patients who have early access to treatment".