There was a time, many lockdowns ago, when we hosted meetings and events in rooms full of people while encouraging hands-on group activities and fruitful close discussions. Since 2017, Angels has hosted twelve Train the Trainer Workshops (TTT) in Germany.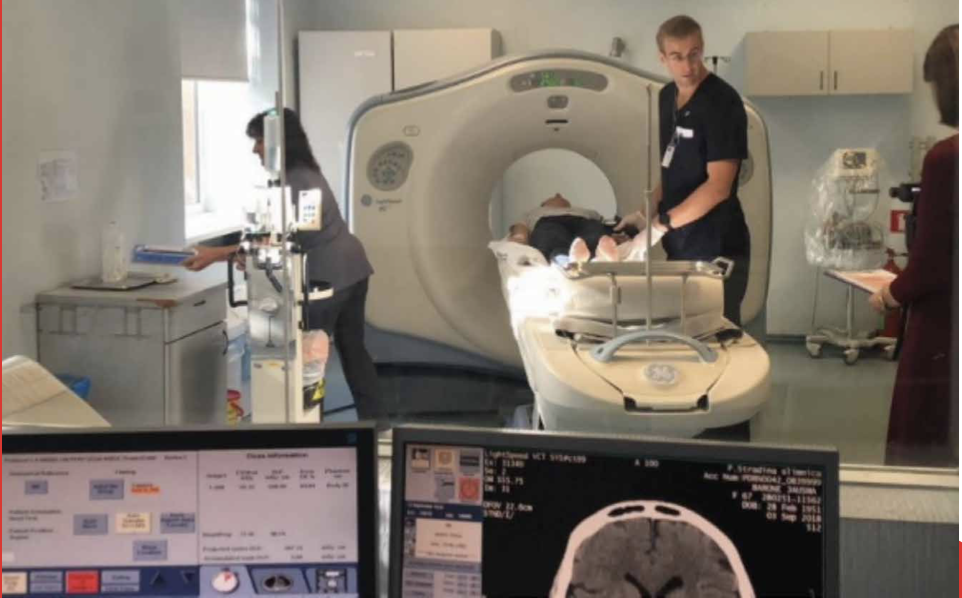 These were targeted at stroke professionals, mainly physicians, based in countries where there are no Angels consultants permanently available. Although it will never be the same as having a dedicated person accompanying you through guideline implementations in your hospital or in-situ simulations with your team, the workshops aim to inspire the participants to become the drivers for improvement and change in their hospitals and their communities.
In each workshop, around 40 people from the various Baltic, Balkan and Eastern European countries – and sometimes also from countries as far away as Congo, Philippines and Iceland – got together for two full days of training. After just three years, we had trained 266 people from 30 countries. Those invited had previously been nominated by the National Coordinator for the Angels Initiative from their country to maximize the possibility of improvement in all stroke-ready hospitals. Coming to the workshop gives participants specific tools to act as catalysts for improvement of stroke care in their hospitals but also empowers them to influence the stroke care quality in their regions.
The first practical session explains the need for ambulance teams to pre-notify the selected hospitals that they carry a stroke patient – giving real life examples and practical suggestions to the EMS. We do this and other sessions not just to impart knowledge, but to promote a multidisciplinary team effort. It's for this reason that we are very proud to report that 14 hospitals have so far achieved 85 award certifications in the ESO Angels Awards program since attending the Train the Trainer workshops.
Several of these hospitals kept striving for excellence after receiving gold and platinum awards. The Croatian Sveti Duh University Hospital in Zagreb, the East-Tallinn Central Hospital in Estonia and the Metropolitan Hospital Piraeus in Greece have each reached Diamond Status ESO Award.
Riga's East Clinical University Hospital Gailezers in Latvia and the Greek University Hospital of Ioannina both earned Diamond Awards twice.
Amazingly, the Pauls Stradins Clinical University Hospital in Latvia is a 9-time Diamond Angels ESO Award winner. This is something that very few other hospitals have ever achieved.
In March 2020, when the COVID-19 outbreak was officially declared a pandemic, we had to cancel a Train the Trainer Workshop for the first time and just a few days before it was due to start. We knew we would have to adapt quickly and examined how we could convert the training into a virtual format.
We decided to begin with half the number of participants to learn from the experience – because if we have learned anything from stroke care it's that there's always room for improvement. By the end of the year, we held a second, slightly larger virtual workshop with more interactive tools and external experts added to the agenda. We even had a live telemedicine session to a hospital in Barcelona as part of our NIHSS session.
One big benefit of attending Train the Trainer is becoming truly part of the community of Angels. The participants leave with this knowledge and with our full support. Our list of attending countries has grown and we are eager to see the outcomes for a couple of hospitals in Ghana that are already preparing their first simulations in their hospitals after attending the virtual TTTs.
We also received news that there are plans of comprehensive training in clinics in Nepal after we were joined by our first attendees from Nepal.
We provide the platform, but it is passionate people like Dr. Evija Miglane and Dr. Kristaps Jurjans from Paul Stradins Hospital that take up the challenge and create the change with many simulations and continuous learning.
Excellence in stroke care means involving the right people – people who can act fast in an acute situation, a team that is focused on education, and prepared to do everything they can to improve stroke care in their country.