For a high-performing stroke network in the Dutch province of Limburg, raising its game starts with one of the simplest devices in the Angels Initiative toolbox – and learning goes both ways.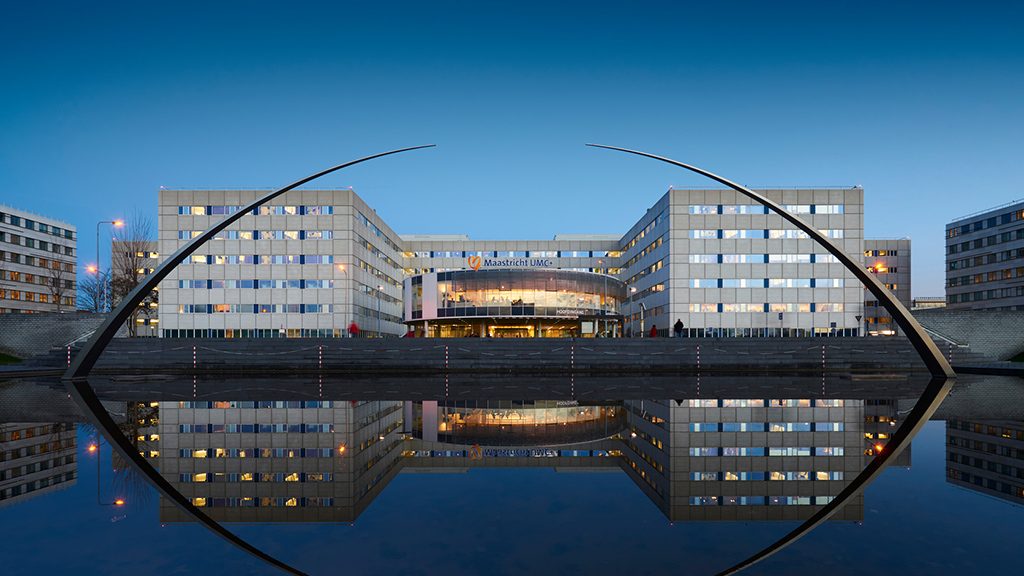 That the University Hospital Maastricht (MUMC) in the Netherlands is a centre of excellence when it comes to stroke care should surprise no-one. For over 25 years it has been the academic and clinical home of Professor Wim van Zwam, neuro-interventional radiologist and one of the principal investigators in the MrClean trial that dramatically altered the management of acute ischemic stroke from 2015, and the ongoing MrClean_Late trial of endovascular treatment for late arrivals.
MUMC is the only comprehensive centre in the southern province of Limburg which juts out and is squeezed between Belgium and Germany, its extreme south-eastern point marking the tripoint of the Netherlands, Belgium and Germany. Together with four stroke-treating hospitals in the region that refer patients to MUMC for thrombectomy, and two ambulance services, it is part of a high-performing stroke network with a regional median door-to-needle time of under 30 minutes and treatment rates of 26% (IVT) and 6% (EVT) of all ischemic strokes.
So, how do you improve on excellence? According to the makers of Porsche, by making small adjustments and looking for possibilities in details.
This was the approach adopted by Dr Cláudia Queiroga, Angels project manager and former consultant in Portugal, after Prof van Zwam and Dr Julie Staals, vascular neurologist in the MUMC, reached out to the Angels Initiative early in 2021 for help with optimizing the regional stroke network in Limburg and in particular the progress of patients from referring hospitals to MUMC for thrombectomy.
"At Angels we never focus on just one thing," Dr Queiroga says.
This holistic approach to patient and pathway would normally entail scrutinising every stage of the patient journey, but with the tried-and-tested processes of in-person observation and simulation ruled out by the pandemic, Dr Queiroga dug deeper into the Angels toolbox.

Angels Plus relies on a Microsoft Excel spreadsheet for stroke process data capture and analysis. Hospitals capture the most relevant time stamps and actions on the spreadsheet, where it is automatically analyzed, and the results represented as a graph that clearly shows where improvements can be made for better outcomes. Standardized to facilitate comparison with other hospitals when appropriate, it can nevertheless be customized to specific situations or consultancy objectives, and can therefore help improve any level of performance, from an under-resourced hospital in a low-income country to one that pushes the boundaries of mechanical thrombectomy, as in Maastricht. The initiative may cut both ways: patient workflow will improve in the Limburg region while the collected data can serve as a benchmark for other Angels projects.
For the Limburg region, along with standard data points such as door in time, door to imaging time, time of therapeutic decision and commencement of treatment, Angels Plus was adapted to capture and analyze inter alia the time from decision regarding thrombectomy to transfer, and the duration of transfer via EMS activation, as well as to differentiate between early (under six hours from onset) and late arriving (up to 24 hours from onset) patients.
"Mechanical thrombectomy is a dynamic field with constantly evolving guidelines for decision-making and treatment," Dr Queiroga says. For all its apparent simplicity, the elastic nature of Angels Plus means it can quickly incorporate new developments in treatment and still serve as an efficient tool for dissecting the patient pathway and targeting opportunities for improvement.
As a consultant from the inception of the Angels Initiative, Dr Queiroga helped newly treating hospitals face the challenge of their first recanalisation. The network consultancy in Limburg, even at this early stage and despite the barriers of language, distance and restrictions due to the Covid pandemic, offers a markedly different experience and fresh insights.
Hospitals in the Limburg stroke network attend regular regional meetings and collect quality monitoring data as a matter of course, she says. But although their treatment times and acute treatment rates would almost certainly qualify them for Angels Diamond status, far from turning up their noses at a tool as apparently simple as a spreadsheet, they have welcomed the consultancy with what Dr Queiroga describes as a "striking humility and a sense of ethical responsibility".
The desire to improve is ingrained in their systems and performing at the highest level is all in a day's work," she says. "They see improving the care they provide to stroke patients as simply doing their duty, and in that regard they serve as a model for other stroke hospitals.
"There is also a strong sense of region. Although each hospital is a separate entity, there is a regional mindset that says, 'We can only do it if we all do it'."