Our Neurology and Stroke Department is located in the Kenessey Albert Hospital of Balassagyarmat, Hungary. This year our hospital was rewarded with the Angels Diamond Award by the European Stroke Organisation for outstanding improvement and results in acute stroke care. It took a lot of dedicated time and effort to get there. The recanalization rate of acute ischemic stroke patients was 9,6% in 2014, now in 2020 it is above 30%. The median door-to-needle-time was 87 minutes in 2014, and it decreased to 19 minutes in 2020. 

In the first years, we had to reinforce to our physicians that every patient counts. In other words, all hyperacute ischemic stroke patients who have possibly disabling symptoms and who don't have bleeding risk, should be eligible for treatment. In the US, they say recanalization therapy is for everybody with a pulse. As our case numbers and experience increased, we could start to pay serious attention for treatment time parameters like door-to-needle time as it is one of the main factors of favourable outcome. By pushing the colleagues and the system to evaluate and treat the patients faster in our ordinary routine, we could get only slight results.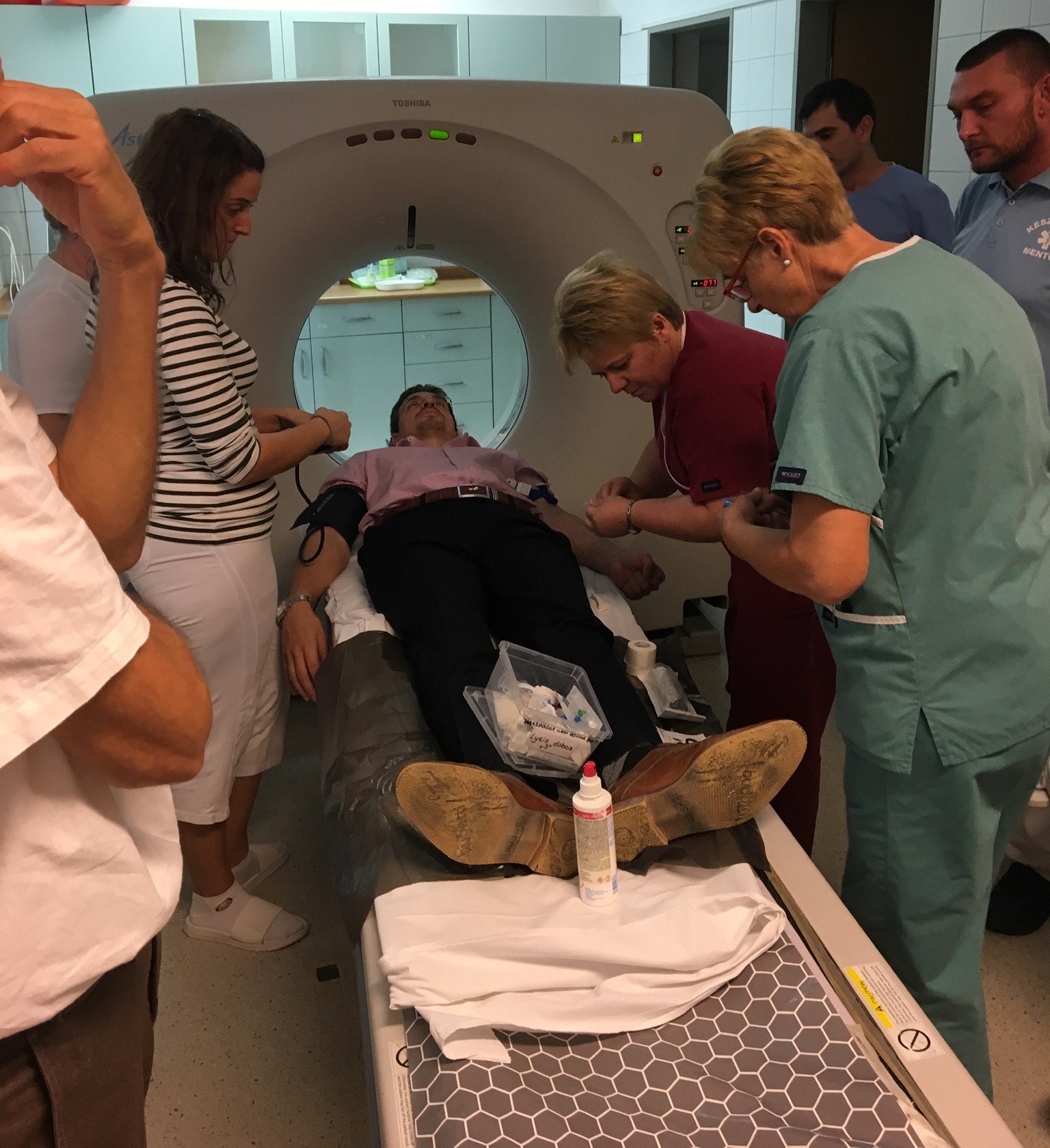 In 2016, we were approached by the Angels Initiative, who helped us to monitor the processes of our everyday stroke care in order to improve. The first lesson we learnt was that we had to monitor our data. Second lesson was that we needed a paradigm shift in organising acute stroke care. Some of our physicians and nurses attended a video-recorded simulation training where we saw what we were doing incorrectly and how to make the process better and faster. The aforementioned paradigm shift was the practical application of the Helsinki model in our hospital. The results of the Helsinki University Hospital seemed utopian before. We successfully simplified the treatment process by eliminating unnecessary steps before starting treatment and we optimized the remaining items. We were monitoring our data and provided immediate feedback for prehospital and in-hospital stroke teams as well on a daily basis. 
This extraordinary stroke team is a wonderful example of how innovative thinking about stroke care, willingness to constantly improve and great teamwork can have such outstanding results. They first got a gold award, but they did not want to stop there. They strived for the highest level of excellence and they kept revolutionizing. In 2020, they reached Diamond Status by reducing their Door to Needle time by more than half compared to last year, and by significantly improving their recanalization rates from previous years. And now that they are at the highest level, they still continue learning and are always eager for more and more training" - Kinga Nedda Pete, Hungarian Angels Consultant
Now, almost all patients arrive after EMS prenotification and a neurologist awaits the patient at the gate of the Emergency Room. All the patients are transferred to the CT suite immediately on the EMS stretcher. During this short walk, medical history, medication list, details of the actual attack is collected. In the CT room, the first step is blood pressure measurement to avoid delay if intravenous blood pressure lowering treatment is necessary. The second step is a short medical/neurological examination. The third step is performing a non-contrast head CT scan and its short (less than 60 seconds) evaluation. As soon as treatment decision is made, the treatment starts. Blood sample collection, CT angiography, etc. are performed only after treatment started. 
 
As a result, we could lower our door-to-needle time by a huge margin and we finally got this fantastic award. Here I would like to thank the joint efforts of our stroke team, the EMS staff, and last but not least for the Hungarian and Czech representatives of the Angels Initiative. - Dr. Krisztián Pozsegovits, Head of Neurology