Angels consultant Maria Koneva puts it in a nutshell: "Once you have done it, you know it forever." Read how the principles of experiential learning underpin the impact of simulation training on stroke care.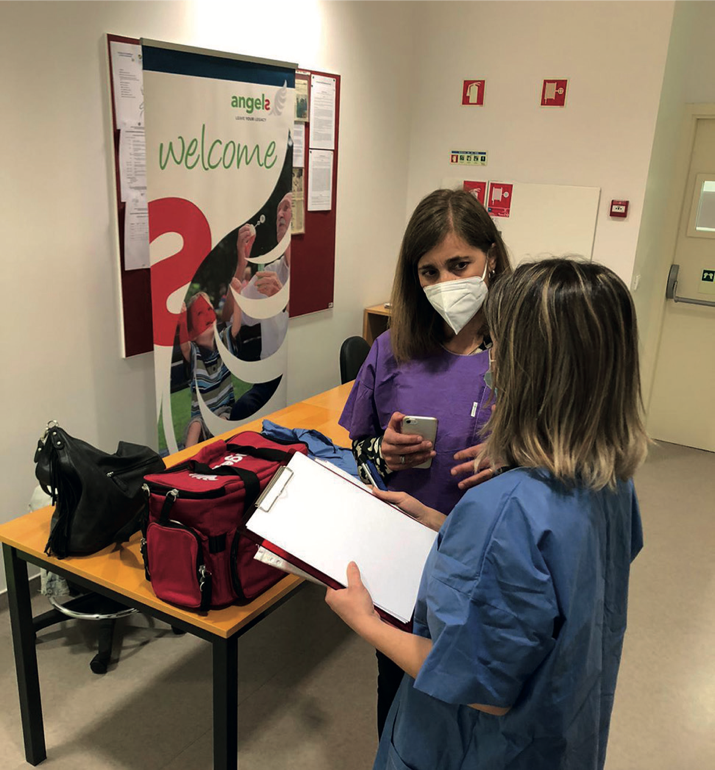 At the start of 2019, just 1 in 200 stroke patients in the Ukraine was receiving pharmalogical recanalization therapy. The rate for thrombectomy was even lower, a barely perceptible 1 in 1000. Although recanalization rates rose year after year, this happened in painfully small increments off a low base. 
In no single year had the recanalization rate grown by more than 31 percentage  points, but  that  was  about to change.
Starting in February 2019, a team of neurologists and neurology educators presented training courses on acute stroke care to 106 stroke team members from across the Ukraine. Ten inter-disciplinary groups of neurologists, neurosurgeons, stroke nurses and ICU and EMS physicians attended the two-day Stroke Simulation Course held at  Poltava  Regional  Hospital in the east of the country, where a Simulation Centre – the second in Eastern Europe – had opened on World Stroke Day in 2018.
At the World Stroke Congress the following year it was reported that by the end of 2019 the total number of patients undergoing recanalization therapy in the Ukraine had risen by 90%, and the thrombolysis rate at hospitals that took part in the training, by over 200%.
The Poltava team's conclusion was that simulation training for stroke care had an immediate, significant and measurable impact on quality of care.
Key learnings about how and why
The merits of simulation-based learning are well­ established. In fact, the Greek philosopher Aristotle was the first to observe – around 2400 years ago – that "the things we have to learn before we can do them, we learn by doing them".
The role of simulation training in healthcare was pioneered by Dr David Gaba, an anesthesiologist who drew on the training principles of aviators and astronauts to help healthcare professionals master new skills without risk to patients.
In emergency stroke care, the positive impact of simulation training has been demonstrated by significant improvements in real-life patient management  and outcomes as the result of, inter alia, time gained through better teamwork, and more confident physicians making better decisions, faster.
Anyone wanting to understand how and why simulation training improves stroke care, will find plenty of answers in both peer-reviewed case studies and in the broadly understood benefits of experiential learning. But for five key learnings about simulation­ based training in stroke settings, one might equally rely on a group of Angels Initiative consultants and team leaders who share their experience of a range of simulations – from in-hospital acute pathway simulations to simulation centre based scenarios to optimise decision-making and post-acute care.
1 A safe place to learn and reflect
Simulation training provides small-group learning in a safe environment, says Silvia Ripamonti, Angels team leader for five Central European countries including the Czech Republic and Bulgaria. The ultramodern Simulation Centre at St Ann's University Hospital in Brno, Czech Republic, is one of the most used by Angels teams in Europe. In Bulgaria, two-day Stroke Academies are held at Saint Anna Hospital in Sofia and Saint Panteleimon Hospital in Plovdiv.
"Simulation removes fear," says Maria Koneva, who is based in Moscow, Russia, and joined the Angels Initiative from a desire to change the health system in her country.
"It's a safe zone," Claudia Queiroga confirms. Claudia, who is now a member of the Angels Initiative Core Team, is a former consultant in Portugal where she experienced in-situ simulations of the hyperacute phase of stroke in the emergency department.
Simulation training also provides an opportunity to reflect on your actions in a non-judgmental environment, she adds.
A role-play simulation typically consists of three phases – the briefing, the scenario, and the debriefing. During the debriefing component, participants receive expert feedback in a non-judgmental, supportive environment. This opportunity to reflect is a key element of experiential learning according to philosopher and education reformer John Dewey who believed that "we do not learn from experience, we learn from reflecting on experience".
2 Learning better for longer
Experiential learning accelerates learning and improves retention. Not only are trainees more likely to make a personal connection with the material, but they also learn the value of mistakes.
It is amazing how much learning takes place in just two days, says Lev Prystupiuk, the Angels consultant for Eastern Europe and Central Asia. Lev, an endocrinologist whose experience includes providing volunteer medical care in remote rural areas of his native Ukraine, was involved in setting up the Simulation Centre in Poltava. He says that after simulation-based training at Poltava doctors with no previous experience of stroke treatment start treating stroke patients at their own hospitals and in their own countries.
Not only is learning accelerated by doing, it is also reinforced by reviewing and analysing video recordings of scenarios and gaining insight into one's own behaviour.
"When you watch yourself  making a mistake, you never forget it," says Alicia Arjona, an Angels consultant from Spain . Maria Koneva echoes this: "Once you have done it you know it forever."
3 Competence, confidence and a connection
When physicians who have  attended  simulation training start treating their patients, they are confident for two reasons, says Mateusz Stolarczyk, Angels team leader for Russia, Poland and Ukraine. "One is that they know how, and they also have the Angels' support into implementation."
Silvia concurs that "the biggest outcome is that the physician is more confident when they put into practice what they have learnt". It's the confidence of someone who has benefited from role-playing decision-making scenarios with experienced physicians, getting expert feedback on their observations during neurological screenings, or shaving life-saving minutes from the acute stroke pathway during in-situ simulations.
Not only have they received all the relevant and correct information from a top expert who is skilled at making the complicated simple, they can also count on future support and mentoring, says Maria .
Silvia's experience confirms this: "When a physician who has never treated strokes before completes simulation training, the trainer will say, 'When you have your first patient, call me.' And when they do call, they will find a mentor at the other end of the line saying calm down, let's follow the checklist, follow the protocol."
4 Teamwork across disciplines
Teamwork is essential in a medical emergency, and improved communication between interdisciplinary team members particularly in the hyperacute phase is one of the key outcomes of simulation training.
But teamwork also has a role to play in post-acute care, says Claudia, who recently attended a post-acute simulation workshop at the Simulation Centre in Aveiro, Portugal, along with Angels project manager Rita Rodrigues, who co-ordinates education and training for the consultant team in Europe and manages participation in international meetings, workshops and conferences.
The workshop was attended by two interdisciplinary teams from different hospitals that included a rehabilitation nurse, a physiatrist, an occupational therapist, physiotherapist, speech therapist and nutritionist.
Unlike in the hyperacute phase, post-acute specialists do not usually work as a team, and often participants from  the same hospital had never met each other, Claudia says. "One specialist might come in during the morning, another in the afternoon and they will rely on the information in the patient record."
During the simulation workshop at Aveiro, however, the participants realized that teamwork and shared decision making across disciplines in post-acute care was beneficial for the patient.
In addition, participants gained a better understanding of each other's roles, and by carrying out tasks usually performed by other specialists as part of the simulation, they had the opportunity to walk in each other's shoes.
"This was very beneficial for team spirit and team building," Claudia says.
5 The patient's perspective
In the post-acute simulations, actors who had been enlisted as "patients" provided valuable feedback from the patient perspective, Rita says, adding that involving actors made the simulation seem very real to the participants and made the experience truly immersive.
"We involved the actors in the debriefing sessions and the teams were very interested to hear how they perceived the screenings and conversations during treatment, and how it felt. No-one ever asks the patient, so it was very valuable to hear this perspective."
No less valuable is the insight provided by role-playing a patient yourself, as Mateusz Stolarczyk learnt when he acted as a patient during a simulation in St Petersburg .
"It really made me appreciate the value of informing the patient about what is happening," he recalls. "I knew it was just a simulation, but I still felt nervous."