How many neurologists does one need to have an average door-to-needle time (DTN) of 30 minutes? In the case of Istituto Clinico Città Studi (ICCS) in Milan, that magic number is four.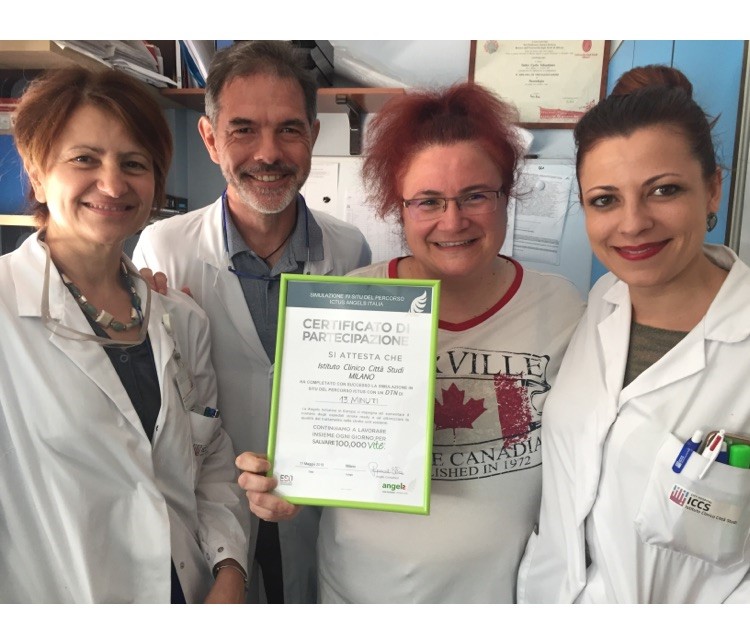 Led by the highly motivated Dr. Carlo Sebastiano Tadeo and supported by Dr. Lara di Toro Mammarella, Dr. Barbara Incorvaia and Dr. Raffaella Russo, the ICCS Stroke Centre has made a giant stride in improving its quality of stroke care. 
Founded in 2005, the ICCS Stroke Centre was designed with a set of key principles in mind based on international gold standards, namely: constant education of medical and nursing staff, a multidisciplinary approach, as well as balance between finding the cause behind an occurring stroke and accurate secondary prevention of neurovascular events. 
 
As one of the original members of the Stroke Centre, Dr. Tadeo made a commitment to continuously improve stroke treatment in this hospital not only by standardizing the existing processes, but also by implementing new ideas. 

It was this commitment, combined with his open-mindedness and multiple collaborations between the Neurology, Radiology and Emergency Department which eventually brought a drastic change to the rate of patients receiving reperfusion therapies in ICCS – rising from 6% in 2012 up to a stunning 34.4% in 2017. The team also spent a great deal of effort in optimizing the intra-hospital pathway, which resulted in a massive reduction of the average Door to Treatment Time from 91 minutes (2014) to just 30 minutes.

30 minutes may sound normal these days, but if we keep in mind that the average Door to Treatment time in their region is still 90 minutes with some hospitals averaging times as high as 160 minutes, one quickly realizes the enormity of their achievements.  

How was this possible? Yet again, the answer is simple and consists of a joint application of three priority actions:
Pre-notification from the Emergency System to the hospital before a stroke patient arrives
Treating stroke patient at the CT room 
Point of care device and blood test priority  
"Angels was essential to motivate all the team, to diffuse knowledge of the crucial priority actions to reduce the DTN and therefore to reach the great results of the last months with more than 90% of patients treated below 45 minutes!"- Dr. Carlo Sebastiano Tadeo
Not yet content with these impressive progresses - which included one Gold and two Platinum ESO-Angels Award certificates earned in the last three quarters - Dr. Tadeo and the whole Stroke Unit team are now taking part in a new challenge to even further improve the health outcomes of their patients. The Stroke Unit nursing team, led by Ceruso Sofia, decided to enroll into the prestigious European Quality in Acute Stroke Care (QASC) project to implement "Fever, Sugar and Swallowing" protocols in the Stroke Unit.
In a country where the treatment rates are often quite high, but the treatment delays are still much higher than what we see in other countries, the ICCS serves as a great example that it is also possible in Italy.