A stroke awareness campaign aimed at 5- to 9-year- olds is exceeding expectations and bringing children and their grandparents closer together.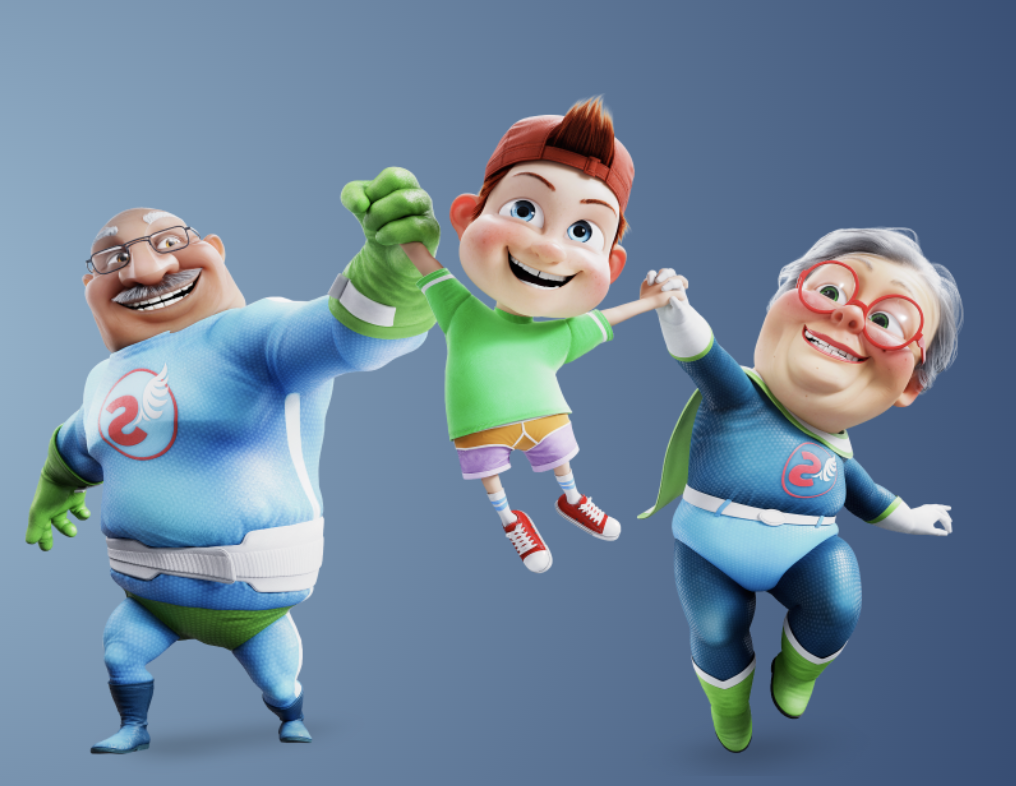 In Singapore, which has a rapidly ageing population, stroke is the fourth leading cause of death. However, public awareness of stroke is low. In 2019, the World Stroke Organization reported that fewer than half of all Singaporeans were able to identify a stroke symptom, risk factor or the number to call for an ambulance1. But the FAST Heroes 995 programme is about to change all that, by educating a new generation.
The FAST Heroes 995 programme is an educational initiative aimed at raising awareness in stroke. It targets children between the ages of five and nine and encourages them to become superheroes, who transfer essential knowledge about stroke to their parents and grandparents.
The phrase "time is brain" emphasises that human nervous tissue is lost as a stroke progresses, making it vitally important to seek medical attention as quickly as possible. The FAST Heroes campaign teaches children and their families to recognize the three main stroke symptoms – facial droop, arm weakness and speech difficulty – and to call the Singapore emergency medical number 995 immediately when a stroke is suspected.
The Angels Initiative team partnered with the Singapore National Stroke Association (SNSA) to launch the FAST Heroes programme in schools. Although numerous school closures as a result of COVID-19 hampered the initial rollout, the team stayed on course and their determination ensured that the programme got off to a roaring start in March 2021.
Angels together with SNSA worked hard to introduce the programme to schools, canvassing for interest, rolling out social media publicity campaigns and capitalising on ad-hoc events to increase the noise around the FAST Heroes programme. A section on FAST Heroes was included at the 18th Singapore International Stroke Conference, with the Angels Symposium Chairperson, A/Prof Deidre Anne De Silva donning the FAST Heroes mask. At SNSA's annual walkathon in October 2021, participants wore the FAST Heroes mask during the walk too.
Training provided to schools was adapted to be accomplished virtually, which enabled a larger number of teachers to be trained while working around physical group-size limitations due to the pandemic. Each training session comprises of presentations by three different stakeholders – a member from SNSA who provides an overview of stroke in Singapore, the Angels Initiative lead who introduces the background of FAST Heroes 995, and a trainer with extensive experience of pre-school education to teach the curriculum to teachers.
The culmination of these efforts resulted in the team surpassing their own expectations. The first school that was introduced to the campaign was Choa Chu Kang Primary School. Since then, 56 schools (mostly pre- schools) have been reached, and the initial target of 500 students has been met more than three times over, with 1,800 little FAST Heroes recruited by the end of 2021! The second phase of the campaign will focus on reaching more primary schools.
Feedback from schools has been encouraging - thanks to the FAST Heroes activities completed in the classroom and at home, children are able to recognise the signs and symptoms of stroke and understand who are most at risk.
A teacher from Sparkletots, a leading provider of pre- school education in Singapore, commented that her students were now able to remember what to do if someone among their loved ones displayed symptoms of stroke. Teachers have commended the programme for its emphasis on maintaining and strengthening the relationship between children and their grandparents, which is aligned with the value of filial piety that schools strive to teach in the classroom.
From here on, it is an upward trajectory for Singapore's FAST Heroes 995! With the team setting high goals for 2022, every grandparent could soon have a small superhero looking after their grandheroes with love, knowledge, and a very important three-digit number at their fingertips.