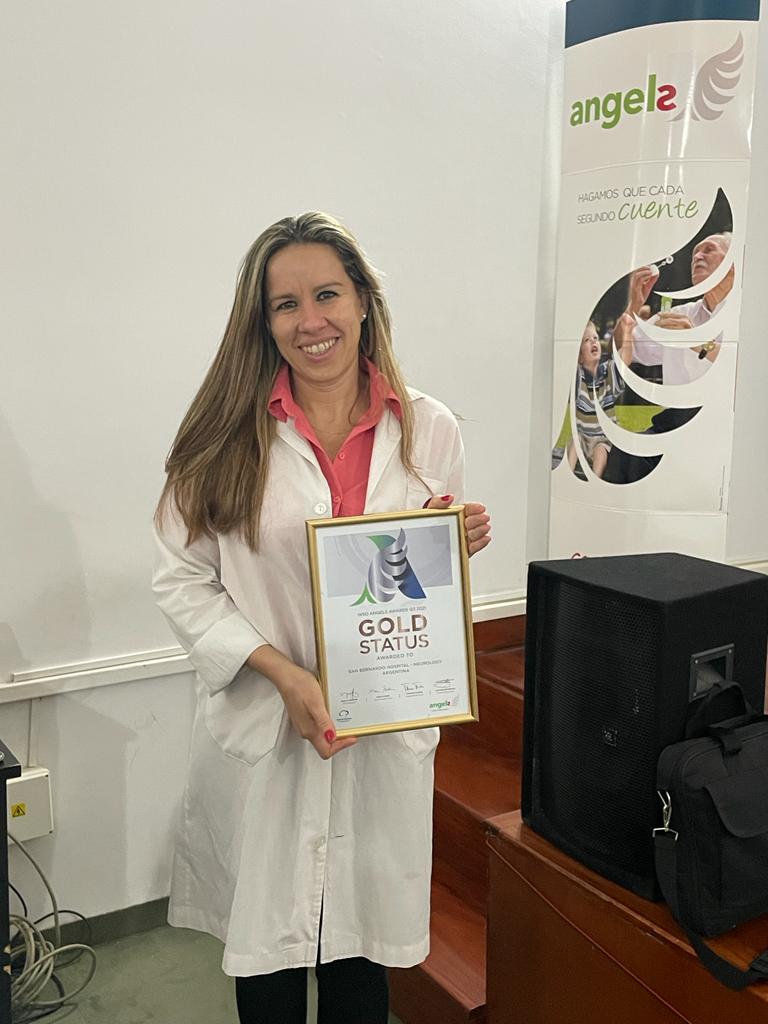 A gold award gets you appointed to the job you've been doing for a decade. When you reach platinum status, you get a stroke unit. WSO certification opens the door to thrombectomy. Win a research award? Now you can purchase the equipment you need to continue that research.
This is the recent history of stroke care at San Bernardo Hospital in the Argentine province of Salta where Dr Gabriela Orzuza's patience and determination are finally being rewarded with what she has desired all along – the opportunity to provide the best possible care for stroke patients.
The real story takes a little longer to tell. It circles back to the same city in northwest Argentina where three-year-old Gabriela gets to know Dr Federico Núñez Burgos, a cardiologist who keeps a kissing bug in a jar in his consultancy. Triatomine bugs, to give them their proper name, are vector insects responsible for the transmission of Chagas disease, a tropical parasitic disease that causes heart disease in almost half of those infected. The cardiologist, who is Gabi's stepfather, is also a student of Chagas, about which we will say more in a while.
With parents willing to make sacrifices for education, Gabi attends Salsa's best schools before being admitted at famous Favaloro University in Buenos Aires. The tuition is expensive. Driven by a sense of urgency, Gabi is a medical doctor by the age of 23.
Determined to become a neurologist, she has her heart set on the Fleni Institute, a neuroscience research facility of international prestige. But fate takes a detour to the corner of Belgrano Avenue and La Rioja where the first stone for the Spanish Hospital had been solemnly laid in 1872.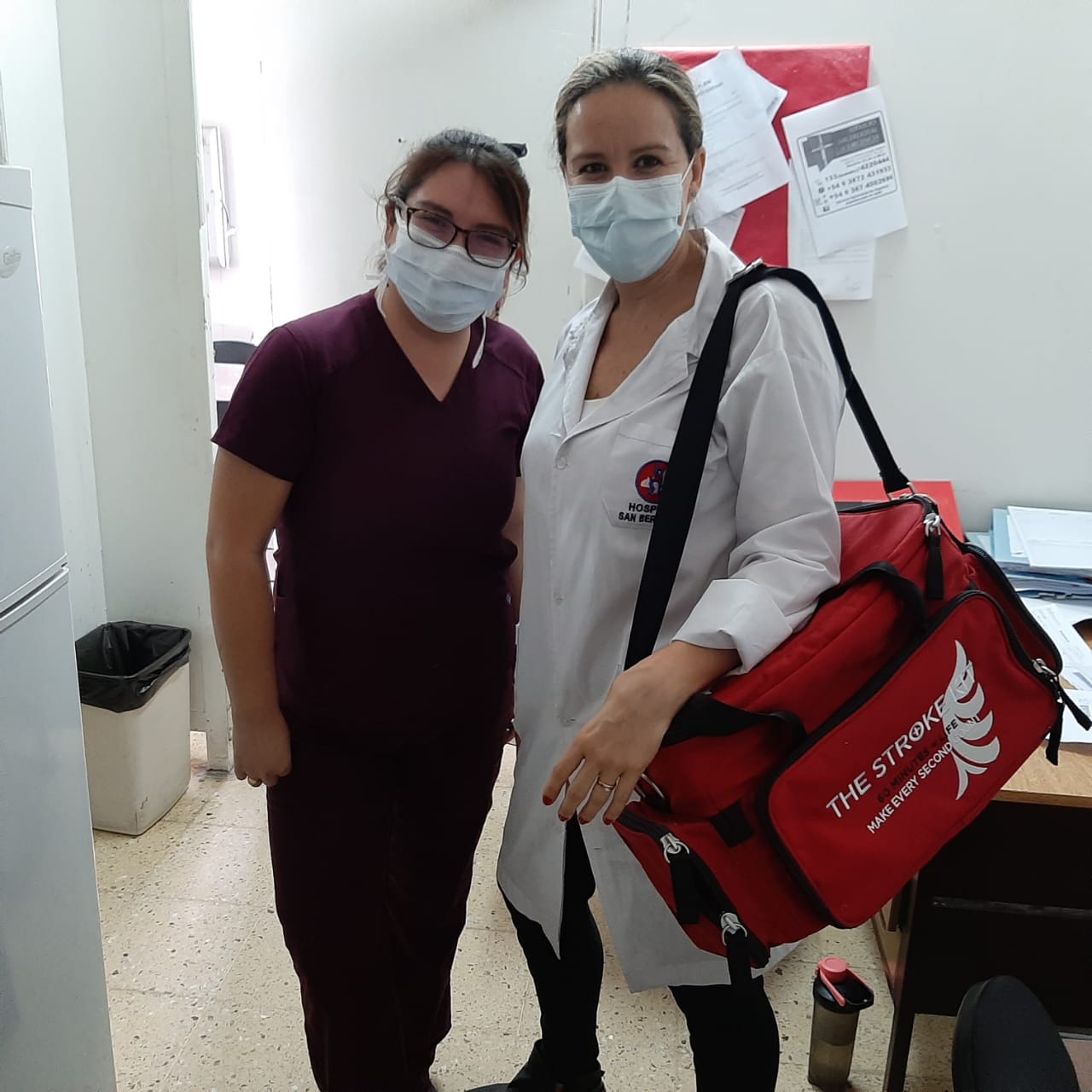 The road back to Salta
There is no stroke programme at the Spanish Hospital when Gabi arrives, but there is also no shortage of support for a trailblazing second-year vascular neurology resident able and willing to tackle the barriers to stroke protocol implementation. With a team of doctors and colleague Dr Brenda Borrego Gerrero in her corner, Spanish Hospital thrombolyses its first stroke patient two years later – but it is not yet time to return to Salta.
Gabi is accepted into a fellowship at the Italian Hospital of Buenos Aires, the clinical home of one of Argentina's most esteemed neurologists, Dr Maria Cristina Zurrú. Years of intense learning follow but Salta keeps calling, and in 2013 Dr Gabriela Orzuza returns home for the reason she went to study medicine in the first place – to care for the patients in San Bernardo Hospital as she had watched her stepfather do.
There is at this point no vacancy for a neurologist at San Bernardo. There is however also no stroke team, no stroke plan and no stroke treatment, so Dr Orzuza signs on anyway, and works for free. After one year she is allowed to succeed the departing instructor of neurology residents on a temporary contract for which she will have to reapply every four years.
Gabi met her husband Roque Gutiérrez in her first month back in Salta and is weeks away from giving birth to their first child when the first patient is thrombolysed at San Bernardo Hospital in 2015. The patient arrives on a Saturday. Gabi recalls there was a scramble to unlock the pharmacy where the thrombolytic was kept...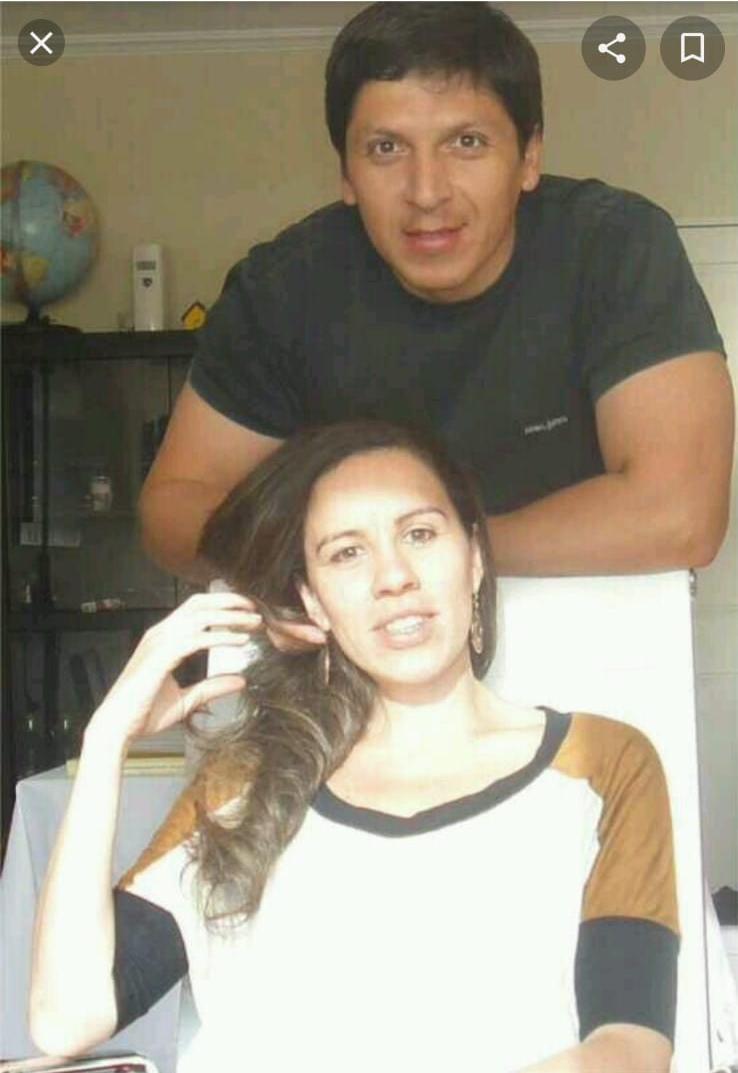 Row the boat
By 2018 Dr Orzuza knew the route to the pharmacy very well. San Bernardo falls in the category of self-managing hospitals that receive public funding but have autonomy over how the funds are used. Yet stroke remained a low priority; there was still no stroke unit, no beds exclusively for stroke patients, and she had just had to reapply to have her contract renewed.
"We have an expression in Argentina – 'like rowing in dulce de leche'," she says, referring to a popular dessert of thick caramel. Progress felt that slow, and Dr Orzuza was feeling "really alone".
Enter Alejandro Rossi, who after more than two decades with Boehringer Ingelheim was now an Angels consultant. Hearing about the Angels Initiative produced a sense of immense relief, Dr Orzuza says. "Alejandro said, 'Gabi, I have what you have been asking for.' It was the fuel I needed to continue."
Gabi and Alejandro kicked off their collaboration by enrolling 160 nurses in training. Because nurses in Argentina aren't trained to the same academic standards as those in Europe or the US, Gabi was concerned that they would struggle with the material in the Angels Academy. "I was afraid that they would be afraid," she says. To address these fears, a series of training workshops took place on Saturdays, and as skills grew, treatment times shrank.
The door-to-needle time dropped from 70 to 60 and then to 40. By the final class, stroke patients at San Bernardo were receiving thrombolysis within 20 minutes of arrival.
Dr Orzuza noted these numbers in her spreadsheets as she always had, but in 2021 when Alejandro suggested recording treatment data in RES-Q and putting her hospital in line for an Angels Award, she was hesitant. Her job was to care for patients, not win prizes, but Alejandro was persuasive, and her residents were willing to help with data entry. And when a few months later it was confirmed that San Bernardo Hospital had met the criteria for a gold award, Dr Orzuza saw an opportunity to use the award for the benefit of her patients.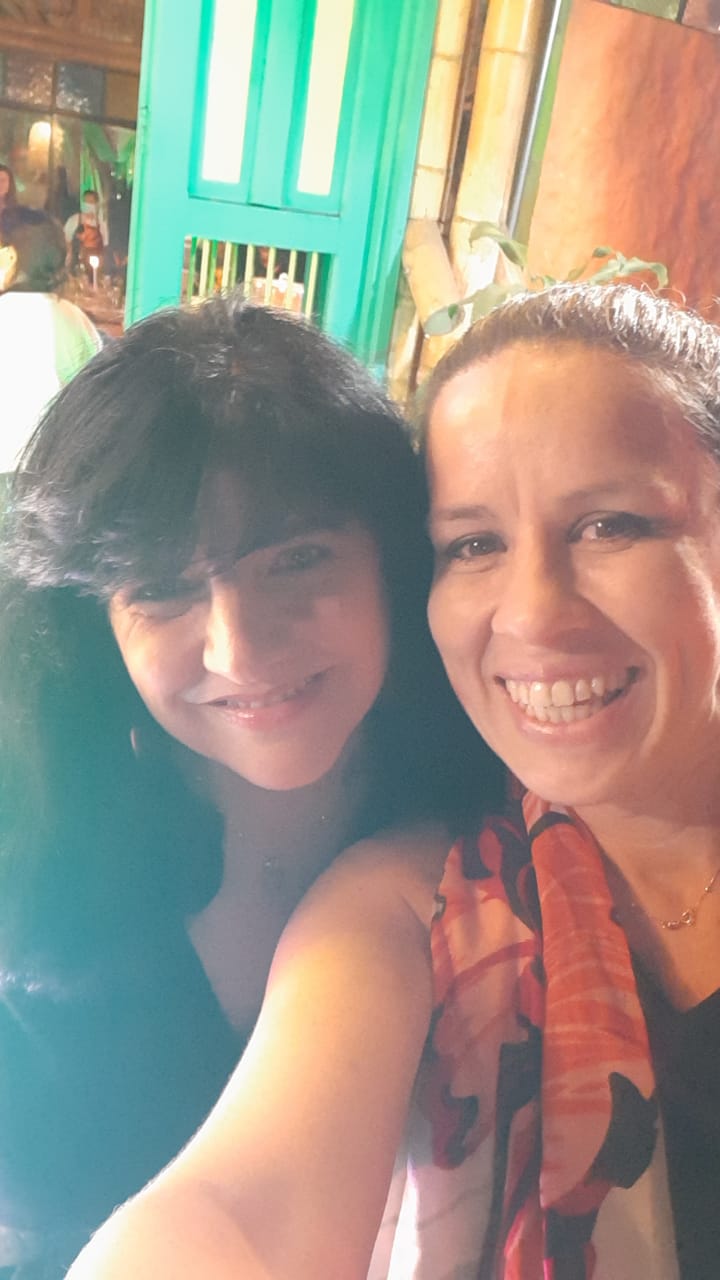 It was showtime
News of the award spread via TV, radio and local news outlets, and the minister of health Dr Juan José Esteban made a speech about the importance of stroke care. One month later, Dr Orzuza was formally appointed to the job she had been doing for close to a decade, and when in the next quarter San Bernardo won a platinum award she used the momentum to secure approval for a stroke unit.
"There was a tiny room that had been used for Covid and was now free. I put my two little beds in there, and my nurses. It was my little baby."
The baby had a growth spurt after Dr Orzuza attended an Angels Academy in Colombia and met her idol, WSO president-elect Sheila Martins. Prof Martins was leading a WSO certification campaign for stroke units in Latin America and wanted San Bernardo on board.
"I haven't got a lot of things," Dr Orzuza said.
"You can do it," Prof Martins said, and she could.
Reorganisation of the hospital freed up the dedicated nursing staff needed for certification; cardiology gave her an electrocardiograph, the emergency department found they could spare a monitor, another department donated a bed.
In July 2022, Prof Martin celebrated San Bernardo's certification with a Facebook post that read: "Impressive what can be done with few resources but with great determination, resilience and love, crowned by the emotional tears of a mission accomplished! Parabéns, Gabriela Orzuza."
One month later, Gabi was invited to talk about her programme at the Global Stroke Alliance in São Paulo.
"I don't have a programme," she told Prof Martins.
"Of course you have," Prof Martins said. "You have worked hard, that is your programme."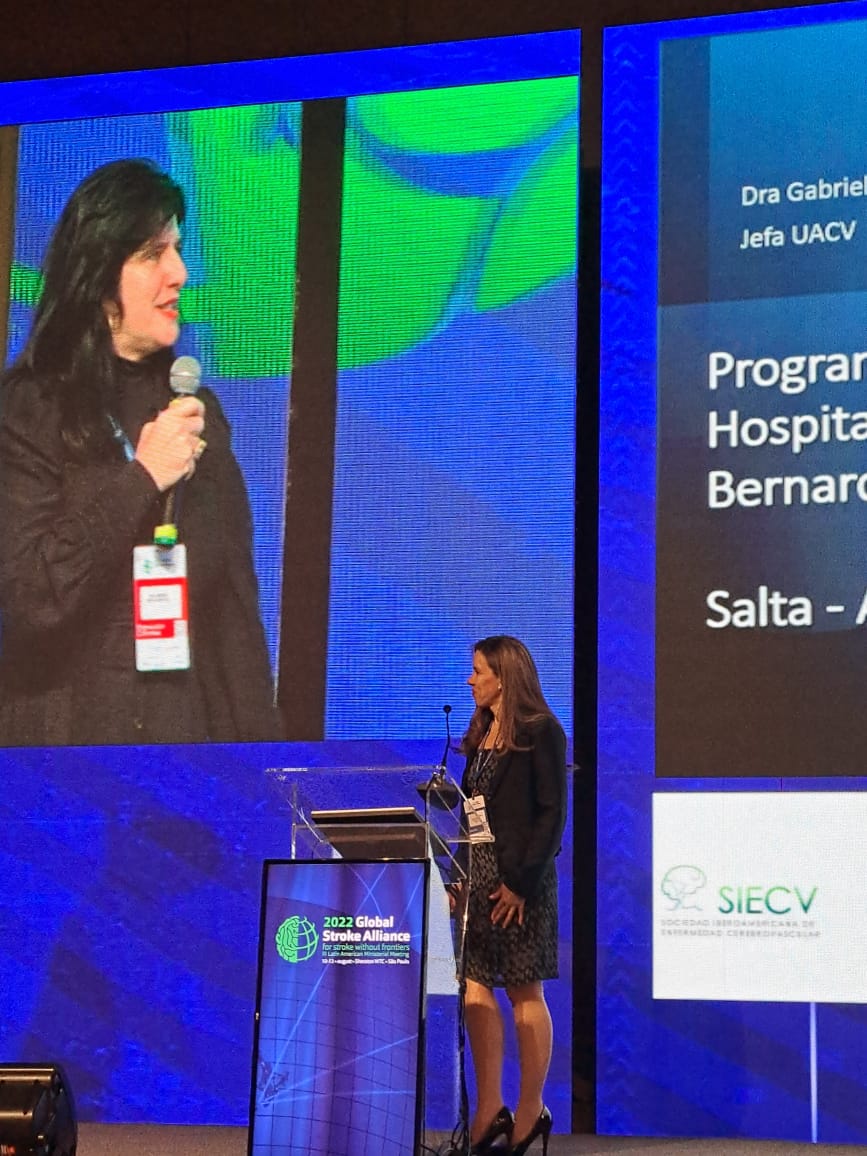 But certification has brought even greater rewards. San Bernardo Hospital now has a thrombectomy service, and Gabi is working with Alejandro to implement a telestroke network in hospitals outside Salta.
When several years ago she told a colleague of her vision for a stroke network for Salta province, so that patients from remote areas could be brought to the capital by helicopter for treatment, she was told, "Gabi, you were born in the wrong country."
"I took that as inspiration," she says. "I will do it here."
For all her determination, getting smaller hospitals in the region to start treating stroke has been an uphill battle. "It's frustrating," she says. "The teams in those hospitals are very afraid to do something new, they do not want to work with thrombolytics."
As always, however, Dr Orzuza has found a way. The neurology residents under her wing inevitably share her dedication to stroke, and as they complete their specialisation and fill positions elsewhere in the province, they carry that knowledge and enthusiasm with them.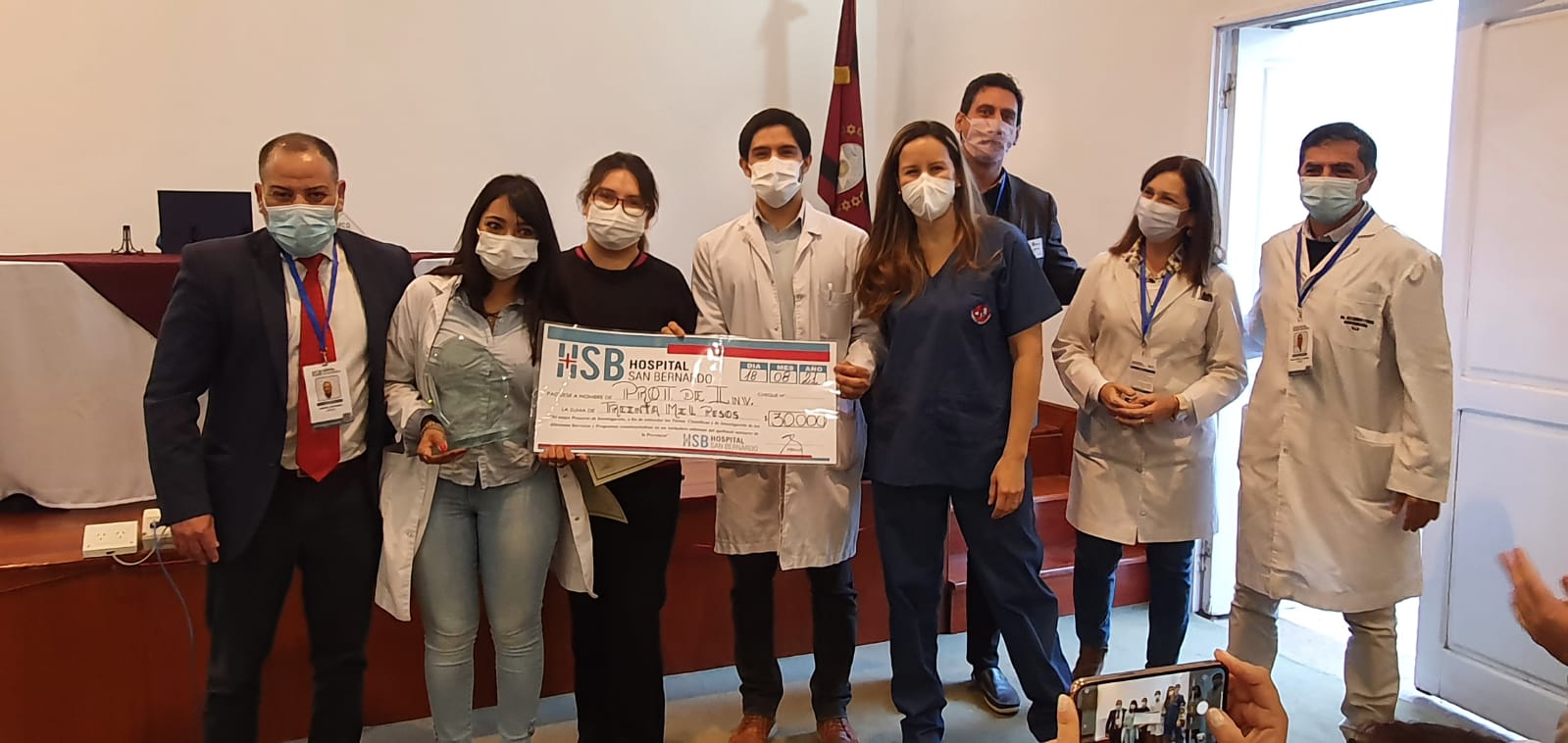 A third award
2021 was a big year for Dr Gabriela Orzuza, but two awards do not yet tell the complete story. As part of the hospital's 61st anniversary celebration, the first annual San Bernardo research award went to a study on Cognitive Impairment of Post-Stroke Chagasic Patients conducted by Dr Orzuza and four of her colleagues.
Although the topic needs further investigation, Dr Orzuza says that the question regarding poor cognitive outcomes observed in stroke patients with Chagas disease may not have a clinical answer but instead lie in a "difference of opportunity".
"Inequality," she clarifies.
Patients with Chagas are typically from extremely poor rural areas where they lack opportunities to build up a cognitive reserve through stimulating activities such as reading, learning new languages or playing an instrument.
Further investigation will require Holter monitors that can detect heart conditions a traditional ECG cannot provide enough information about. The publicity that attends the research award makes the acquisition of this equipment a certainty.
Something else you can be certain of is that, up in heaven, Salta's beloved Dr Federico Núñez Burgos is shining down with pride.